Welcome to our newly revamped Boomb Tube! Here, we will be catching you up on the week in comics TV, both through micro-reviews, as well as links to our full-length TV reviews. We also tend to review series that are dropped all at once weekly so there are a few 'older' shows mixed in for good measure. Are we missing your favorite show? Let us know in the comments!
Big Nate – "Wilderness Warriors" (S1E8, Paramount+)
Stay tuned for our full review of the season one finale on Tuesday by The Salvatores.
The Flash – "Death Falls" (S8E13, The CW)
Wow! I was not expecting that.
Last week I said that, most probably, Deathstorm's saga was going to end in this episode, because of the new "graphic-novel" approach of the series… but I was not expecting what happened in this episode. A horror, almost bottle-epsiode.
Deathstorm begins his master plan, he starts torturing each member of the team (except for Cecile and Frost), and with their combines grief, he is "feeding" Caitlin to make her his queen bride of death.
Deathstorm then appears to Frost and tells her that she is not being drained of her gried because she has no grief, she is a clone, a carcass of a person, that affects her greatly. When Frost came out of Caitlin, I just thought "oh great!, double duty for Danielle Panabaker, more hijinks, and a little more drama for the show," but I took it for granted, I didn't think about the philosophical implications of her existence, what is she? is she human? is she a person? And now, Frost is making herself these same questions.
Fortunately, Chillblaine saves the day, giving an actually wonderful speech to his girlfriend, about how or feelings, our love isn't created over night, instead, it is put together over time and you need to keep feeding it; that inspires her to finally let her emotions go and feel grief, making her human and transforming Frost into Hellfrost, in the final fight, she absorbs Deathstorm, powers and kills the mother.
Unfortunately, well, I don't want to spoil it if you haven't still watched the episode, but let's just say that the next one is named "Funeral for a Friend." This was one of the better episodes of the season and of Eric Wallace's era, an emotional, profound and impactful story that left Team Flash both heavily affected and at touch with their grief, which hopefully, will make them grow more, emotionally speaking.
Heartstopper – "Friend" (S1E5, Netflix)
Charlie decides to invite Nick to his 15th birthday outing at the local bowling alley/arcade, not knowing he has a date with Imogen lined up for that night. Nick tries to get out of the arrangement, but is unable to say anything after learning her dog died. Tao and Elle don't say anything, and Tao's resentment of Nick only grows after Harry engages in some homophobic bullying.
At the arcade, Tao tells Charlie about Imogen and Nick in the bathroom; Nick eavesdrops, and hugs Charlie after he emerges; Tao just warns Nick about hurting Charlie's feelings someday. Nick clears up the situation privately, admitting he was scared about hurting Imogen's feelings. (He is truly an incredibly kindhearted boy.) He gives Charlie his present, which is a framed selfie of them with Nellie in the snow, and the two kiss for the first time in public.
Nick texts Imogen to let her know he can't come, but he'll meet her the next day. At the park, he explains he doesn't feel that way about her, indirectly explaining he accepted her request out of peer pressure. She takes it rather well, all things considered, and the two remain friends.
Song of the episode: "Paper Mache World" by Matilda Mann. – Christopher Chiu-Tabet
Heartstopper – "Girls" (S1E6, Netflix)
While watching Pirates of the Caribbean with his mum, Nick is reminded of his childhood crush on Keira Knightley, and starts looking into whether he's bisexual: he watches videos by YouTuber Courtney-Jai, and asks Charlie and then Tara as to when they knew they were only into the same sex. (He also discloses to Tara and Darcy that he and Nick are an item.)
Continued below
---
---
Meanwhile, Elle admits to Tara and Darcy that she has feelings for Tao. Darcy comes up with the idea of a triple date to set them up, and Nick and Charlie oblige. While having milkshakes, Charlie pulls Tao away so he can tell Elle that he and Nick are a couple; Tao, he feels, will need more time to be comfortable with him. Afterwards, the group goes to a performance from the Higgs orchestra (which Charlie is part of), where Elle and Tao wind up sharing earpieces.
Before the concert starts, Tara overhears some lesbophobic comments about her, and goes into the music storage room to cry. Darcy follows her and comforts her; Tara tearfully confesses she wasn't prepared to come out publicly, but Darcy reminds her it will get easier. The others come and get them before the doors open and the concert begins.
Song of the episode: "Knock Me Off My Feet" by SOAK. – Christopher Chiu-Tabet
He-Man and the Masters of the Universe – "The Fifth Nemesis" (S2E8, NETFLIX)
Stay tuned for our full review of the season two finale on Tuesday by Henry Finn.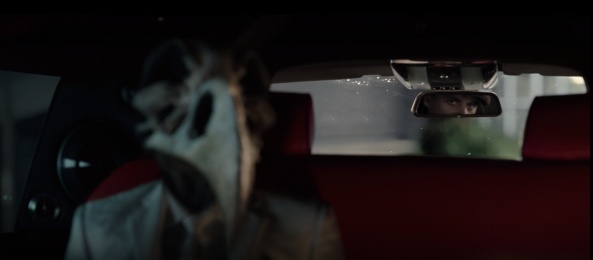 Moon Knight – "Gods and Monsters" (S1E6, Disney+)
Read our full review of the season finale by James Dowling.
Naomi – "Worst Prom Ever" (S1E11, The CW)
One of the really interesting pieces of Naomi is how, despite her having allies left and right, it is always Naomi, and often only Naomi, who actually does what needs to be done. This episode doubles down on both the idea of her being 'the one,' and her proving that she can do things beyond what anyone else thinks she can. This episode really lays all of the cards out on the table for the show: all of the important characters (aside from the surprisingly absent Anthony and the pissed off Lourdes) now know both that Naomi is an alien, as well as her parents, and everyone is beginning to see how big her destiny truly is.
The final scene between Nathan and Naomi is really well played, even if the material somewhat outpaces the acting ability of Daniel Puig (who still does a fine job, but manages to be a little too cool and collected), and it really digs into the idea that Naomi's very existence puts everyone that she loves in jeopardy. Now, this is the classic hero's dilemma, but rarely has it been presented to a character as young as Naomi. This really feels unfair to her, which is a testament to the writing of the show.
The show is setting up the big Naomi/Brutus climax for next week's two part finale and, with the fate of the show still up in the air for next season, this has a very 'series finale' feel to it. While I would enjoy future seasons of this show, this also feels like a perfectly reasonable one-season experiment, with Kaci Walfall on call for all the big CW crossovers for the next few years. If Legends of Tomorrow had stuck around, I would've suggested having Naomi travel the multiverse with the Legends, but alas, that wasn't to be. – Brian Salvatore
Riverdale – "Chapter 107: In the Fog" (S6E12, The CW)
Read our full review by Elias Rosner.
Samurai Rabbit: The Usagi Chronicles – "The Big City" (S1E1, NETFLIX)
Read our full review of the season premiere by Elias Rosner.
Samurai Rabbit: The Usagi Chronicles – "Yokai" (S1E2, NETFLIX)
I didn't talk about it in the premiere episode but I really like the theme song. I'm a big sucker for shamisen music. There's just something about the instrument. It's one of the highlights of the show thus far, which is as sad a statement as it seems, since I can't even praise the intro or score as a whole, just one instrument's appearance.
The other highlight is SungWon Cho (aka ProZD) as Lord Kogane. What perfect casting. Cho has so far been the only one, to really nail the comedic timing necessary to bouy the show's tone. Sure he's an antagonist but he's the perfect kind of ineffectual antagonist archetype. Though to be fair to the others, aside from Yuichi, they aren't being given great material. Actually, I take that back. Tetsujin has gotten some good material and Keone Young delivers on that.
Continued below
---
---
Yes sadly, aside from these two stand out bits, "Yokai" doesn't do much to improve my thoughts on the show or of Yuichi. We open the episode on a fight between the big bad, Kagehito, and our intrepid crew that I swear looked like it was choreographed by the Birdemic people. Before long he escapes, we find out Tetsujin is now a ghost and failed to realize it, Yuichi impulsively grabs a mystical yo-yo, and it turns out Miyamoto Usagi is a boogeyman and known as a traitor in Neo Edo and then Yuichi gets arrested by Lord Kogane and his megaphone, a gag I thought would get old but has yet to.
The rest of the episode consists of the gang independently going to free Yuichi because they're all tsunderes and can't admit they like him, prison break shenanigans, and then we close things out with a much more fun yokai fight with Karasu Tengu before, apparently, establishing the actual status quo of them under Lord Kogane's thumb to avoid jail.
Honestly this blow-by-blow makes it all seem more interesting than the episode actually was. It's a fine episode but very standard. What brings it down is the sluggish animation and a script that matches it. Yuichi tries to have the boundless energy of a kids show protag but just can't capture it. His jokes aren't funny, his personality is insufferable, and he's given so much screentime it can feel like a slog to sit through. He gets some good lines but not enough to offset all the rest.
Thankfully, it seems like he's going to do some much needed growing and the rest of the crew will hopefully be able to stand on their own more. I'm particularly interested in seeing more of Chizu. They're teasing out her backstory and if the comics are anything to go by, we may be getting our ninja story sooner rather than later. If not, that's fine, so long as we get more Spot and the "truth" behind all this Usagi slander.
Until next week, remember, fail means jail. Ikuzo! – Elias Rosner
Star Trek: Picard – "Farewell" (S2E10, Paramount+)
Read our full review of the season 2 finale by Christopher Chiu-Tabet.
Superman & Lois – "Truth and Consequences" (S2E11, The CW)
Read our full review by august (in the wake of) dawn.