Welcome, citizens, to this week's installment of Multiver-City One! Every Wednesday we examine the latest offerings from Tharg and the droids over at 2000 AD, the galaxy's leading producers of Thrill-Power entertainment! Between the weekly "2000 AD" itself, the monthly "Judge Dredd Megazine", an extensive library of graphic novel collections, and new US-format one-shots and mini-series, they have decades of zarjaz comics for you to enjoy.
This week's Prog 1950 is another one of Tharg's perfect jumping-on points for "2000 AD"! All the strips are specially selected to be even more new-reader-friendly than usual, so we'll jump right in after a quick public service announcement!
I. AN EARTHLET'S GUIDE TO 2000 AD
We understand that having such a large selection of comics to choose from can make knowing where to start with 2000 AD seem daunting. What do they publish? Where can I get it? What's up with Judge Dredd? Can I still read "2000 AD" if I don't like Judge Dredd?
So to help new & potential readers, we've put together An Earthlet's Guide to 2000 AD. This FAQ collects everything you need to make your initial foray into the 2000 AD Thrill-verse as simple as possible.
II. THIS WEEK IN PROG 1950
NOW ARRIVING – EVERYTHING!
Judge Dredd: Serial Serial, Part 1
Wagner's back, MacNeil's back, PJ Maybe's back. This is going to be something.
John Wagner and Colin MacNeil have a long and fruitful history of collaboration. From their "America" trilogy (maybe that'll change to being a quadrilogy soon?) to the recent "Mega City Confidential," the pair have worked to define Judge Dredd, his supporting cast, and the Mega-city they all call home. 'Serial Serial' finds them setting their sights on serial killer/man-of-many-faces PJ Maybe. We last saw Maybe a few months back as Wagner and artist Greg Staples kicked off 'Dark Justice.' Here's what we said about Maybe at the time:
A shadowy character has appeared on the doorstep of an enormous home. While he's never named, this is the home of long-time Mega-City Villain and almost-mayor PJ Maybe. PJ, last we saw him, was shacked up with this rich old lady Allegra and her robot butler Monty (and, of course, doing all that stuff with the trapping of evil spirits in a wine bottle mentioned earlier). Allegra was the latest victim of Maybe's con artistry and never knew him as PJ, only Roberto. While we see plenty of Monty, Allegra does not make an appearance in this strip.
Spoilers: said shadowy figure was the one-and-only Judge Death, who came knocking on Maybe's door in order to collect his Dark Judge brethren that had been tricked into a wine bottle. You see, like most serial killers, PJ Maybe is extraordinarily intelligent. You wouldn't know it from his spelling, but the guy's been able outsmart Dredd and the Justice Department at almost every turn. Now, at the onset of the onset of this new story, Maybe seems to want to help Dredd solve three strings of murders that may or may not be attributable to one man.
Now Maybe loves theatrics. So, in order to grab Dredd's attention, he orchestrates the murder of a magician who is onstage and mid-performance. Apparently he is so serious about catching this other serial killer that he is willing to kill a man to prove it. Oh, PJ!
This first chapter is Wagner at his absurdist best, delivering a stone-serious story that reads like it's reflected in a funhouse mirror. His comedy is so black and subtle that it'd be easy to miss if you're not attuned to that sort of thing. I mean, we get to see Judge Dredd in an office, behind a desk, in full gear, doing paperwork in his gloves and helmet. We later find out that this isn't some workstation he's using, but his actual personal office, complete with name placard next to the door. Have we ever seen this? Did we know that, somewhere in the Hall of Justice, there's an office that belongs to Judge Dredd? And that is has floor-to-ceiling windows?
Continued below
---
---
Classic characters, an outlandish premise, and gentle absurdity; these are the things that made me love this comic. If things go as I hope they will, we're in for a real treat with this one.
Credits: John Wagner (script), Colin MacNeil (art), Chris Blythe (colors), Annie Parkhouse (letters)
Defoe: The Hanged, Part 1
Just as one strip from the 2014 Winter Special left us ('The Alienist'), another crawls up out of the ground to take its place this Prog! We went into a little more detail back then, but the gist of things is that 'Defoe' takes place in an alternate 17th Century England where a comet's appearance caused the dead (called 'reeks' instead of the Zed word) to rise.
'The Hanged' picks up after the previous strip to find Defoe, the leader of a band of reek-hunters called the Brethren of the Night, now out of the reek-killing business following the success of their final mission and living with one of his former Brethren, her son, and their new baby. Surely nothing could happen to disturb this picture of domestic bliss, could it? No reason to dig the ol' quad-musket and razor-rifle out of the trunk?
Yeah, right. Like Mills would let THAT happen!
I've only read the previous one-shot before this strip but it gave me a good idea of the craziness 'Defoe' can tap into. Not just with the reeks but the melding of Enlightenment-era luminaries with action survival horror plots. My knowledge of English history is a tick above nil, so I can't really say how accurate Mills is on that score but it FEELS like he's grounding things in enough history and people of that era to give it that verisimilitude without letting that stop the Thrill-power. So you read this knowing you'll learn a little bit about roundtops and levellers and all that while taking in the gnarly action.
And boy does Leigh Gallagher do gnarly! Can't think of a type of wound he hasn't given 110% in bringing to the page not only accurately but viscerally. Gallagher is in more of the Geof Darrow camp than the Charlie Adlard camp when it comes to drawing the reeks, but still manages to keep things from losing the illusion of motion. Because seeing something scary is bad, but seeing something scary coming after you is terrifying!
Can't wait to see more!
Credits: Pat Mills (script), Leigh Gallagher (art), Annie Parkhouse (letters)
Brass Sun: Motor Head, Part 1
When last we saw 'Brass Sun', Wren and Septimus have left Ramkin and Ariel and are proceeding to Tall Green, another planet in The Orrery (a life-sized clockwork solar system), as Wren continues her search for the Key to restart the sun and save her own planet from a fatal ice age. Oh, and she occasionally has conversations with Kurt Vonnegut. Well, not the REAL Kurt Vonnegut, but an echo of the Blind Watchmaker who build the Orrery that has downloaded itself into her brain and just happens to take the appearance of the late writer and give their shared space in her mind the appearance of 21st century Earth. But now things are going to get crazy…
The last installment ended with an ominous tag on the last page, but for the most part was actually fairly positive. But we pick up the story here to find things back in their usual state: dire. And as a credit to Edginton, the danger isn't from the tagged menace, but something else. The feeling I kept having while reading this installment was the same as watching the first episode of Battlestar Galactica after seeing the miniseries. There's a slight bit of hope followed by a gut-punch of nope.
I would say the time off from the strip hasn't dulled Culbard's drawing skills any, but let's be real: the man does so much other work there never is any time off. He feels of a school with D'Israeli (and not simply because of the Edginton connection) but going in a more minimalist/reduced direction without losing the scale this strip requires or having things feel flat. I'm sure it's a balance between the line & color helping pull that off. Fortunately, we've got a couple of weeks to explore that in some depth!
Continued below
---
---
Credits: Ian Edginton (script), INJ Culbard (art), Ellie de Ville (letters)
Bad Company: First Casualties, Part 1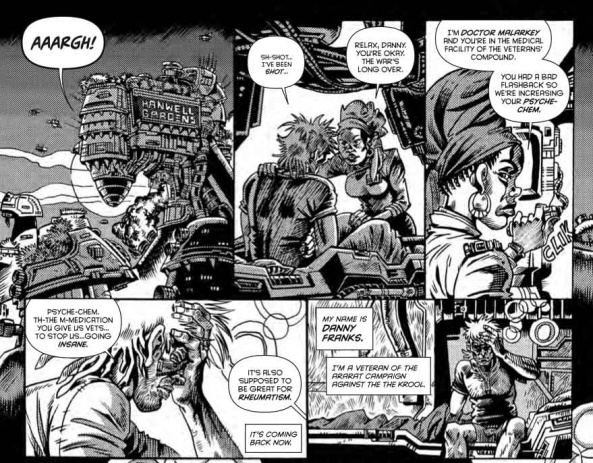 A classic "2000 AD" strip returns, sadly without its original creative team. Writer Peter Milligan and inker Jim McCarthy are reviving the long-absent 'Bad Company,' and doing so in the memory of the strip's first penciller Brett Ewins, who passed away earlier this year. Filling Ewins' sizable shoes is long-time "2000 AD" contributor and frequent "Tank Girl" artist Rufus Dayglo.
Dayglo and Jim McCarthy do Ewins proud here, as the art is phenomenal. The character designs and page layouts are bombastic and the linework is bold enough to support it. And then there's the halftone. Using halftone helps give the pages a texture and plays really nicely with the inking. Plus, it serves to make the whole strip feel like a vintage "2000 AD" reprint, almost as if it'd look better printed on the newsprint of yesteryear. The strip feels like a fresh take on the title, while remaining an homage to the late artist who gave it its distinct look.
While there are surely nods and goodies for readers who remember the original 'Bad Company' stories, Milligan approached the writing in a way that's friendly towards folks who've never experienced the strip before. This was a perfect way to round out this week's Thrill-Zine.
Credits: Peter Milligan (script), Rufus Dayglo & Jim McCarthy (art), Simon Bowland (letters)
III. OF INTEREST
It's been a few months, so why don't we check in with the 2000 AD Thrill-Cast!
Released biweekly (or each fortnight, if that's the unit of measure you're most comfortable with), The Thrill-Cast is produced by Tharg's own PR droid Molch-R and, as such, has access to a truly mind-bending pool of droid talent to talk about all things 2000 AD. For instance, when he wanted to discuss 'Enceladus', the recently wrapped Dredd epic, he just picked up the communicator, punched a few digits, and BOOM! Script droid Rob Williams and art droid Henry Flint are right there for him to interrogate. Tharg's Rolodex is mighty, indeed!
Here's what the Thrill-Cast has covered since last we checked in with them:
And finally, over on this side of the Black Atlantic, I managed to grab this snapshot at last weekend's Baltimore Comic-Con:
I'm pretty sure I was about three seconds away from eating a daystick and spending the next few years warming up an Iso-Cube for taking this picture before Judge Hecht noticed a perp spouting hate speech that the 1995 Stallone film was better than the 2012 Urban version. Needless to say, I was the lesser of two evils in that case.
That's gonna do it for us this week! Zarjaz new-reader-friendly "2000 AD" Prog 1950 is on sale today and available from:
So as Tharg the Mighty himself would say, "Splundig vur thrigg!"