Buying comics can be an expensive hobby. A lot of fans simply can't afford everything they're interested in, due to rising prices and the over-saturation of the market with superhero titles.
That's why we're here. Every week, the Multiversity staff is asked "What would you buy this week if you couldn't go over $20?" and shares their reasons why, in order to help others who might have similar tastes make their own decisions in buying comics on a budget. Be sure to leave your own picks in the comments!
Brian's Picks:
Hellboy and the B.P.R.D.: 1957 – Forgotten Lives ($3.99) – A father son Bruttenholm/Hellboy team up story is never an unwelcome guest.
Secret X-Men #1 ($4.99) – I will admit that I've fallen off the X-book hard, but this book may draw me back in. The X-books I enjoy most are ones that feature the lesser known mutants As a man of a certain age, seeing Strong Guy and Forge on the team is an even greater mark in its favor. Will this convert me back? I don't know, but I'm pretty excited to check out the issue, regardless.
Black Manta #6 ($3.99) – As we prepare for "Aquamen," the finale of "Black Manta" gives some hints as to the direction the series may take. Plus, the art by Matthew Dow Smith makes the price of admission seem hilariously low.
Prophet #1 Facsimile Edition ($3.99) – 1990s nostalgia has never been hotter than it is right now, and while I can see through most of it, I'm not immune to it entirely. The early Image #1s were so foundational in my comics fandom that I don't know if I could walk past this in a store and not pick it up.
Total: $16.96
Johnny's Picks:
Secret X-Men #1 ($4.99) – Cannonball, Sunspot, Boom Boom, Strong Guy, Armor, Forge, Banshee, Tempo, and Marrow make for a damned interesting combination of characters (and some of my favorite mutants, to boot) in this new joint from writer Tini Howard and artist Francesco Mobili. On a mission for the Shi'ar Empire to save Empress Xandra, I think this book will be a fun sci-fi romp in the same way Howard's run on "Excalibur" played in the fantasy genre. I'm curious as to who Howard will really connect with in this book – she clearly has a ton of love for the members of Excalibur, particularly Betsy Braddock, so I'm excited to see if there are any members of this squad she wants to put her own spin on. The art was a bit too realistic for me, but I only read a few preview pages – I'm hoping it will grow on me!
Night Hunters ($19.95) – My second book immediately puts my entries over the $20 mark, but where artist Alexis Ziritt goes, I follow. He has a very inky, grindhouse art style that reminds me of blacklight posters and bootleg heavy metal CD covers from the 90's. This graphic novel, written by "F*ck Off Squad" scribe Dave Baker, tells of a pair of brothers navigating a cyberpunk future in Venezuela, where many are left with two options: become a cop, or die. Neon soaked violence abounds. Sign me the hell up.
Total: $24.94, with apologies!
Kate's Picks:
Neil Gaiman Norse Mythology III #1 ($3.99) : A new volume of Neil Gaiman's Norse tales is always a welcome thing.
Strange Love Adventures #1 ($8.99): Love is in the air over at DC Comics, but not the kind of love you would expect. Ready for some weird love tales?
Doctor Who: Empire of the Wolf #4 ($3.99): By far, this has been the best of Titan's Doctor Who comics yet. This series has set a standard for how an existing property can get a fresh life in comics and tie into canon, bringing in all kinds of fans.
Total: $16.97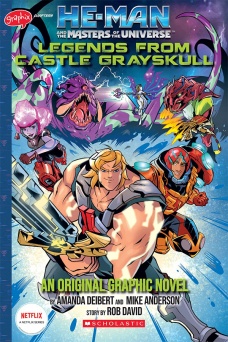 Christopher's Picks:
He-Man and the Masters of the Universe: Legends From Castle Grayskull ($8.99) – I had absolutely NO idea this was releasing, and I am very curious to see how this expands and fits into the new CG show, because it has been a very heavily serialized origin story — and after I'm done, I can pass it along to a cousin, nephew, or a local library.
Total: $8.99