This auction is closed.
*Updated Charity Options – see below*
The bookcase purge for charity continues! You can see a complete list of all auctions here, in chronological order starting with the latest, here. Full auction details are included at the end of the article, but to bring the new folks up to speed real quick:
Every weekday until Friday, June 5th, we publish a new Shelf Bound article announcing a bind or bound set up for auction.
Each bind auction's bidding starts when its article is published and ends 72 hours later, so today's auction will close at 4 PM EST on June 4, 2020.
Bids must be posted in an item's comment section to be considered for that item; highest bid posted before close of auction wins.
Bids from outside the U.S. are welcome, although shipping outside the U.S. may incur additional fee. Bids posted in currencies other than US dollars will be valued at their USD equivalent.
The winning bidder emails me (greg at multiversity comics dot com) to verify donation particulars, then makes the donation and send me verification.
I send out the bind.
Everyone wins.
30 weekdays. 34 binds. All proceeds going to charity. Sound good? Let's get to it!
UPDATE 6/2: In addition to the Hero Initiative, the winning bidder can also choose to have their donation go to any of the organizations supporting Black Lives Matter listed here.
THE INCREDIBLE HULK BY PETER DAVID
Written by: Peter David
Drawn by: Jeff Purves, Dale Keown, Gary Frank, George Perez, Bill Jaaska, Jan Dursema, Paul Pelletier, Sam Kieth, Angel Medina, Ron Wagner, Kevin Maguire
Inked by: Terry Austin, Jim Sanders III, Marie Severin, Cam Smith, George Perez, Joe Rubinstein
Colored by: Petra Scotese, Glynis Oliver, Tom Smith
Lettered by: Joe Rosen

Published by: Marvel Comics

Collecting:

The Incredible Hulk #351-418 (Jan 1989 – Jun 1994)
The Incredible Hulk Annual #16-19 (Jun 1990 – Aug 1993)
Hulk: Future Imperfect #1-2 (Dec 1992 – Jan 1993)
X-Factor #76 (Mar 1992)

Additional Material: None

Bind Details:

Oversewn binding
Gray Arrestox and Forest Green Arrestox cover material
Black/white and green/white headbands
HULK and MARVEL stamps used
White endpapers
Page edges trimmed

Signatures: David, Pérez

Sketches: None
(Lots of pics on this one, ladies and gents!)
Just like the title says, today's auction is a big chunk of Peter David's famous run on The Incredible Hulk. These binds were built from the original comics, so the books are surprisingly comfortable reads despite their massive sizes thanks to the use of newsprint over coated paper stock. They were also planned to be part of a larger collection of that run (hence the volumes 2-4 on the spines) but I never got around to finishing those books. C'est la vie.
Folks who have checked out multiple auctions will notice that I don't usually include the cardstock covers in my binds because of readability issues. Here is one of the few times I broke my own rule:
I can't remember EXACTLY why I did this. Looking back on it, I probably thought (1) the cover was cool enough to want to include, and (2) it was back far enough in the book that it wouldn't become that much of a reading hazard because there would be enough paper on top of it to keep it in line most of the time. That is the only cover in these Hulk binds I did this with (the cover for #400 was the non-cardstock newsstand version).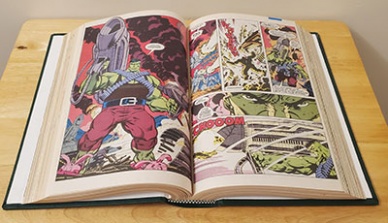 I placed the Future Imperfect mini where it fit into the story chronologically. There weren't any "this story continues in Future Imperfect " blurbs or anything explicit in the Hulk issues, but there are enough connections before & after it in the main series that it really benefits being positioned where it ends up in this book.
(This 'Bachelor Party' issue is one of my favorite Hulk issues of all time and a really nice snapshot of what David's ongoing series does well. Great character work, nice juggling of ongoing plot threads major & minor, good balance of comedy & drama, and some really fantastic art & character acting by Gary Frank. I still laugh out lout reading it today. And if you don't know what an 'ecdysiast' is, do yourself a favor and don't look it up until AFTER you read this issue. Trust me.)
Continued below
---
---
As I mentioned above, all three books are signed by Peter David on the title pages, and George Perez's signature is on the inside front cover of volume 3.
(Speaking of the title pages, there's a typo on the volume 3 sheet. It lists the book as containing Hulk #419, which is the wedding aftermath issue. The book actually ends on #418, the wedding issue, as listed above).
So you COULD take the time & effort to track down all the original issues and turn them into your own book via a binder using the techniques & approaches we cover every month in Shelf Bound . . .
. . . and get them signed by Peter David at a convention eventually (tho Perez has retired from cons so good luck with that) . . .
OR!
You could bid on the bind we're auctioning today, get the benefit of someone else doing all that work for you, AND do some good for the comics community we all love in the process!
Starting Bid: $60
Auction Ends: June 4, 2020 at 4 pm
Proceeds Benefit: In addition to the Hero Initiative, the winning bidder can also choose to have their donation go to any of the organizations supporting Black Lives Matter listed here.
AUCTION FINE PRINT
This auction ends 72 hours after the date & time of this article's posting.
Bids MUST be placed as comments below to be valid.
Bids order is set by the timestamp given by Disqus. I subscribe to every comment section and receive an email notification simultaneous to the posting of every new comment. That email's timestamp is what I use to determine bid order & the final bid cutoff time.
Bids placed anywhere other than the auction article's comment section (i.e. replying to the announcement tweet) will be ignored.
Bids posted in currencies other than US dollars will be valued at their USD equivalent.
Highest bid posted before the end of the auction wins. The winning bidder has 24 hours to contact me via twitter or email (see below) to set up payment. If contact is not made in this timeframe, the winning bid is invalidated and the next highest bid will be the winner.
Winning bidder will make the donation in the amount of the winning bid to the agreed-upon charity. Upon successful donation and receipt of receipt (hehe) by me, the bind will be mailed out via Media Mail on the following Saturday unless an alternate schedule is agreed upon by all parties.
Feel free to post any additional questions you may have prior to the end of the auction below; I will do my best to answer them ASAP. Additional and/or specific pictures of the bind are available on request.
Thanks in advance to anyone bidding on these binds. Good luck!