March is looking like another solid month from Image Comics. We've got some old favorites, a couple of new titles from excellent creators, and one exciting milestone issue. 2018 may just be starting, but Image is already looking towards the future. I don't know about you, but when I'm curled up behind frosted-over glass with single-digit temperatures outside, good comics are what helps me wait for the sun to return. It looks like March is going to be a good 'un.
As always, this is just a select few titles. Catch the full Image solicits here.
10. Brand new witch, brand new blade
"Witchblade" is always a series I want to like, but too often gratuitous t&a has stood in for good storytelling. Every so often though, there's a run on the book that serves as a reminder that it's a comic with a cool premise and a killer mythology. So a female-led creative team and a reboot was just what I needed to give the book another shot.
As it stands, the first issue was slow, but it shows a lot of promise. It's clear that Caitlin Kittredge and Roberta Ingranata have big plans for this book, and by the look of things, issue #4 is where things are going to heat up. Check it out!
WITCHBLADE (2017) #4
STORY: CAITLIN KITTREDGE
ART / COVER / VARIANT COVER: ROBERTA INGRANATA
MARCH 07 / 32 PAGES / FC / M / $3.99

"LIFE AFTER," Part Four Alex has survived her first major test as the Witchblade, but now a far more powerful foe has set its sights on taking her down, and to come out on top, Alex must fully embrace her role as the Witchblade's host—which will mean sacrificing her life as she knows it for good.

9. Insane clown probably
"Spawn" is still going strong. The long-running flagship Image book just won't quit, and keeps on pumping out new issues every month. That alone usually isn't enough to catch my attention, but there are two things going on that caught my attention. One Todd McFarlane, who despite creating the perennially popular comic, only occasionally drops in to write arcs. The other is that McFarlane is recreating the Violator, Spawn's number one arch-nemesis, and the villain he faced off with in the 1997 movie.
Wait, hear me out! I know "Spawn" fans are few and far and in-between, but this sorta reboot has me curious. This is McFarlane attempting to modernize one of his creations. What does a killer demon clown look like in today? What does he do? From Joker to those killer clowns that allegedly live in the woods to the most prominent politicians of the day, 2018 is uniquely situated for the Violator to be more than an Insane Clown Posse fanfic character. Or maybe not. But you have to admit you're a little bit curious.
SPAWN #284
STORY: TODD MCFARLANE
ART / COVER: JASON SHAWN ALEXANDER
VARIANT COVER: TODD MCFARLANE, JASON SHAWN ALEXANDER
MARCH 28 / 32 PAGES / FC / T / $2.99

The re-creation of Spawn's arch villain THE VIOLATOR…A NEW LOOK! NEW POWERS!
8. Down with the Sleepless
This is the newest book on this list, besides books that haven't yet premiered. Read this comic. Leila del Duca is one of the great artists working today. She possesses one of those unhinged imaginations that gives us worlds like the one in "Shutter." Sarah Vaughan is also destined to be a comic book legend. This fairy tale covers the whole spectrum of tones, from weird and dark to light and bouncy. It's much more subdued than some of the previous work these two have put out, but working within those limitations is unlocking new wonderful potential. Support great ladies in comics!
SLEEPLESS #4
STORY: SARAH VAUGHN
ART / COVER / VARIANT COVER: LEILA DEL DUCA, ALISSA SALLAH
MARCH 14 / 32 PAGES / FC / T / $3.99

After the tournament, Poppy and Cyrenic are pulled in different directions.
7. Foxy monsters
Come to see Maika brooding, but stay for the Kippa solo adventure! The main hero of "Monstress" is as gritty as they come. She'd probably fit right in alongside those late-90s Image superheroes, only with prettier artwork and fewer pouches. Kippa on the other hand is a delight, and a wonderful foil for the constantly cranky Maika. So what happens when you split the two of them up? That sounds delightfully risky- without having each other as a contrast, can these two carry their own stories? I'm going to guess they can.
Continued below
---
---
MONSTRESS #15
STORY: MARJORIE LIU
ART / COVER: SANA TAKEDA
VARIANT COVER: YOSHI YOSHITANI
MARCH 21 / 32 PAGES / FC / M / $3.99

Maika sets out to fix the lethal mistake she made in Pontus, while Kippa begins her own perilous journey.
6. Extreme to the max
The solicit for this issue doesn't spill the beans on much, but it's promised to be an "extra sized finale." I don't know what Daniel Warren Johnson considers to be extra-sized (except of course for the extra number of pages), but it looks epic. The patriarchs of two tribes finally coming face to face, in their demented Mad Max attire, it isn't going to be anything less than Earth shattering. "Extremity" will be back, but a finale gives you a chance to catch up. Do it. This is probably the best comic you're not currently reading.
EXTREMITY #12
STORY / ART / COVER / VARIANT COVER: DANIEL WARREN JOHNSON
COLORS: MIKE SPICER
MARCH 07 / 40 PAGES / FC / T+ / $3.99

In this extra-sized finale, the Paznina and Roto go to war, with Thea caught in the middle. But in war, there are no winners….
5. Inventing the mother of invention
The last few issues of WicDiv has been a brutal roller coaster of twists. I reviewed 'em, and I liked 'em. Issue #34 is the start of the new 'Mothering Invention' arc, and promises a flashback. I guess that's what you do after you rock a story to it's core, you hop back in time to give the reveal some time to marinate. Still, a 6,000 year time jump sounds pretty extreme, so chances are the story isn't planning on slowing down. This arc is sort of the beginning of the beginning of the end, because after we get through this, we are truly in the home stretch. The grand finale. With the end in sight, I expect to see more wild reveals, not less.
THE WICKED + THE DIVINE #34
STORY: KIERON GILLEN
ART / COVER: JAMIE MCKELVIE, MATT WILSON
VARIANT COVER: JAMIE MCKELVIE, MATT WILSON, DANIEL WARREN JOHNSON, MIKE SPICER
MARCH 07 / 32 PAGES / FC / M / $3.99

"MOTHERING INVENTION," Part One It's around 6,000 years ago. It's never happened before. Let's talk about that.
4.  The Hole World is in his hands
One of the fun things about "Curse Words" is the feeling that anything can happen. That's what has me giving this solicit the side-eye. With a lot happening in the story, is there time for the Dread Lord Sizzajee to explain the origins of the Hole World? Part of me is worried this is going to be like the Star Wars prequels, and that nothing Soule and Browne can come up with is as insane as what I've already imagined. But then again, we've gotten this far and they've managed to shock and delight at every turn. It's probably worth trusting them to see what they've got cooked up.
CURSE WORDS #12
STORY: CHARLES SOULE
ART / COVER: RYAN BROWNE
VARIANT COVER: BUSTER MOODY, RYAN BROWNE
MARCH 14 / 32 PAGES / FC / M / $3.99

"THE HOLE DAMNED WORLD," Part Two Wizord's wizard-for-hire business has gotten itself a little competition as a mysterious new wizard opens up a shop down the way! Our hero is less than pleased, especially since he'd rather be searching for his still-missing friend Margaret. Meanwhile, Sizzajee lays out the surprising origins of the Hole World.
3. Kirkman's Pinterest
What's that you say? A new Kirkman #1? I hear you people really like Robert Krikman. This sounds like it combines all of his favorite things into one book. It's got apocalyptic landscapes, an exploration of the dark corners of America, a driven protagonist who just won't give up, flapping tattered capes. Kirkman must have sent his Pinterest mood board over to Lorenzo de Felici and told him to just go to town.
Image knows people will get excited about a new Kirman book, so they are pulling out all the stops. We're talking exclusive variants, prints, pins, and a friggin' statue. Someone in editorial is really confident about this book, and frankly that sort of confidence is rare. Consider me intrigued.
Continued below
---
---
OBLIVION SONG BY KIRKMAN & DE FELICI #1
STORY: ROBERT KIRKMAN
ART: LORENZO DE FELICI, ANNALISA LEONI
COVER: LORENZO DE FELICI
MARCH 07 / 40 PAGES / FC / T+ / $3.99

A decade ago, 300,000 citizens of Philadelphia were suddenly lost in Oblivion. The government made every attempt to recover them, but after many years, they gave up. Nathan Cole…won't. He makes daily trips, risking his life to try and rescue those still living in the apocalyptic hellscape of Oblivion. But maybe…Nathan is looking for something else? Why can't he resist the siren call of the Oblivion Song?

The collector's edition of the DEBUT issue of OBLIVION SONG features an exclusive limited edition variant cover by LORENZO DE FELICI! It comes with a STATUE (11") based on the cover to OBLIVION SONG #1, an exclusive print, and a collector's pin. These items will ONLY be available in this limited edition set (limited to 1,000).​
2. Crying Catholics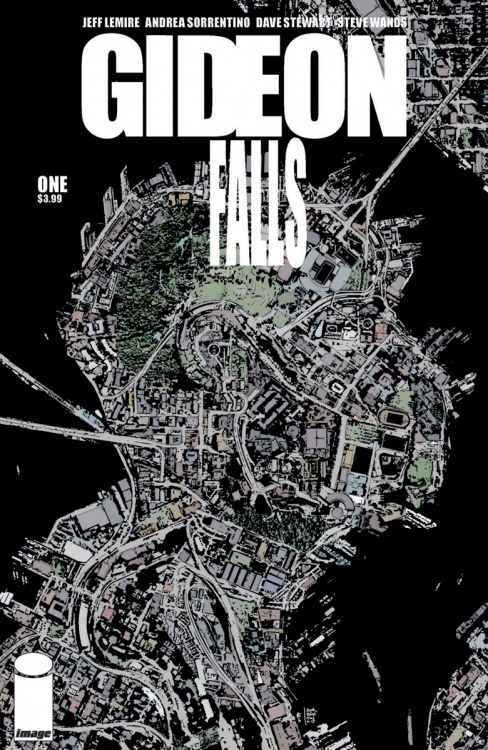 What's that you say? A new Jeff Lemire #1? And he's working with his excellent art partner Andrea Sorrentino? "A conspiracy in the city's trash?" "A washed up Catholic priest?" A "meditation on obsession, mental illness, and faith?" Sign me up.
Lemire has gotten himself a blank check from every single major publisher. This is a writer with tremendous range, who tries to write in every single genre. That's what makes this new book sound so exciting. Instead of another remix of his favorite superhero properties, we're getting what looks like a surreal noir-conspiracy-mystery. Sorrentino does great work with Lemire, and his chaotic, moody style ought to make this a new classic for the duo.
GIDEON FALLS #1
STORY: JEFF LEMIRE
ART / COVER: ANDREA SORRENTINO
VARIANT COVER: JEFF LEMIRE, JOCK
MARCH 07 / 32 PAGES / FC / M / $3.99

A brand-new ongoing series from the acclaimed bestselling creative team of Old Man Logan and Green Arrow! The lives of a reclusive young man obsessed with a conspiracy in the city's trash, and a washed-up Catholic priest arriving in a small town full of dark secrets, become intertwined around the mysterious legend of The Black Barn, an otherworldly building that is alleged to have appeared in both the city and the small town, throughout history, bringing death and madness in its wake. Rural mystery and urban horror collide in this character-driven meditation on obsession, mental illness, and faith.
1. Saga is good y'all
Holy crap, it's been 50 issues of "Saga." I don't need to tell you about "Saga." Chances are you already know. It's one of the best selling comics month-to-month in single issues. It's won all the awards. It's had 49 other issues. "Saga" is consistently comic book perfection, and that heartwarming cover promises that this anniversary issue will be a wonderful look back at all that's come before. Actually no, if you've been reading "Saga," you know that the cover is probably a lie, and that the issue will be filled with heartbreak. Still, the costume contest in the back sounds pretty sweet.
SAGA #50
STORY: BRIAN K. VAUGHAN
ART / COVER: FIONA STAPLES
MARCH 28 / 32 PAGES / FC / M / $2.99

To help their friends, Hazel and her parents risk everything to visit a dangerous new world. Celebrating 50 consecutive issues by the same award-winning creative team. Plus, the winners of the latest SAGA COSTUME CONTEST are revealed exclusively in "To Be Continued," the letters page showcasing the best readers in comics!