Hello and welcome to Multiversity's look at the "Best of the Rest" of what's coming your way in the now-available April 2015 Previews catalog. Having already taken a look at what Marvel, Dark Horse, DC, and Image have lined up for us, it's now time to check out the other 75% of the catalog. Before we jump into the things you should keep an eye out for, a quick reminder:
And second, as one-half of the Robots From Tomorrow podcast, I go through the whole Previews catalog each and every month with co-host Mike Romeo, talking about things that catch our eye and quicken our pulse. If you listen to those episodes, you should still read this column because there will not be a 100% overlap, and if you don't listen to those episodes, they are a great way to hear Mike & I go into further detail about some of the things I've spotlighted here.
That said, let's dive in!
10. Wrong, But Oh So Right
Part of doing this column is trying to use the size of the territory I have to cover be an advantage, and leaving myself open to discovering things as I run across them in the Previews catalog. The reason this is always the last Soliciting Multiversity piece we publish every month is that I have to wait until I have the actual 'phone book' in my hands because a lot of what I pick every month comes from it almost literally jumping up from the pages as I'm leafing through and catching my attention.
So that cover? Kid fishing with a lollipop? Total surprise. Never heard of that strip before. No idea who the creators are. Only a vague idea of what that publisher usually puts out. But that cover? That earns it a slot on here.
WuMo: Something Is Wrong
Written by Mikael Wulff
Illustrated by Anders Morgenthaler
Published by Andrews McMeel

The first collection of WuMo, the hit cartoon that appears in more than 300 newspapers in its first year of syndication!

The cartoon WuMo celebrates life's absurdity and bittersweet ironies, holding up a funhouse mirror to our modern world and those who live in it. Thanks to its delightful artwork and irreverent humor, this hilarious comic by writer Mikael Wulff and illustrator Anders Morgenthaler has grown from an underground sensation to one of the biggest and most popular strips in Europe.WuMo's inventiveness is reminiscent of their countryman Hans Christian Andersen–if Andersen's fairy tales had been populated by sadistic pandas, disgruntled office workers, crazy beavers, Albert Einstein, Snoop Dogg, and Darth Vader.

Named WuMo, after the Danish duo's last names, it appears in the largest papers in northern Europe, including Germany's Die Welt, Denmark's Politiken, and Norway's Dagbladet.

9. Monsters! Famous and Soon-To-Be-Famous
Another surprise was this miniseries from American Gothic Press, a sub-imprint of the Famous Monsters of Filmland publishing empire. I have no idea what it's about other than what you yourself can read in the solicit text below. But I know Paul Tobin's work and enjoy it. PJ Holden, in addition to being a "2000 AD" regular and the artist behind "Numbercruncher" and "Dept. of Monsterology", was a guest on our podcast from the early days of the show. The two of them together, on anything, gets my attention and should get yours as well.
FM Presents: Gunsuits #1
Written by Paul Tobin
Illustrated by PJ Holden
Published by American Gothic Press

Potts is a gunsuit pilot engaged in all-out war with horrific tentacled creatures who appear to be from another planet, except in the world of Gunsuits, where wormholes lead to an infinite number of alternate universes, nothing is that simple. Potts is about to come face to face with herself. From the writer of Prometheus and the artist of Numbercruncher!
8. Last One Here Gets Stuck With The Check
The first of two BOOM! series on this list, this is another miniseries from Barbiere and the publisher. As you'll probably have guessed by now, if not already, I like science fiction. I like the tools that it gives storytellers to tell stories about our own times and cultures without having to make it explicitly about our cultures, and using improbable events to heighten drama we see all around us and never bother to notice. (And by improbable, I mean the fact we'd have our act together enough as a race to be able to actually evacuate a sizable amount of our population; because right now? Not gonna happen. A meteor wiping us out? Totally possible…)
Continued below
---
---
Broken World #1 (of 4)
Written by Frank J. Barbiere
Illustrated by Christopher Peterson
Published by BOOM! Studios

We're thrilled to publish the one new original series co-created and written by Frank J. Barbiere (Five Ghosts, Avengers World) in 2015. Broken World is a gripping sci-fi thriller and survival adventure great for fans of Y: The Last Man or The Massive. Barbiere and co-creator/artist Christopher Peterson (Grindhouse, Mayday) will explore the lives of people left behind in the apocalypse.

With a meteor days away from causing an extinction-level event on Earth, time is running out for Elena Marlowe. While most of the planet's population and her family were approved by the government to escape on one of the giant spaceships headed to another planet, her application was denied due to her mysterious past. With the meteor fast approaching, Elena desperately tries to find a way to fake her way onto the last ship or else be left behind to die with the rest of Earth's rejected denizens.
7. Robot Meets World
This is another "jumped out at me" pick for two reasons. One, the cover. Well, actually, it was three reasons. The first, again, was the cover. The second was the solicit copy; science fiction again a big plus. The third was the publisher. I had read another book by Magnetic Press not a day before seeing this. That book, "Love: The Tiger", was a gorgeous look at the day in the life of a tiger in the jungle, stalking its prey through the landscape. I heartily recommend you at least click on that link to see sample pages. The publisher that had the sense & taste to bring that book over to the US has my attention for everything else they want to put in my hands.
You can see a few pages from RE*PRO*DUCT here.
RE*PRO*DUCT HC Vol. 1
Written by Austin Wilson
Illustrated by Logan Faerber & Various
Published by Magnetic Press

In the future, robots have been legally granted the right to life. Their intelligence is not artificial, and it may not be the best approximation of a personality. But they reflect all the intricacies of a human mind and personality, only from within a manufactured shell, developing and learning as the rest of us do. They mirror us in all the ways we would want, but also in those ways we would wish to exclude. A tale of teen-angst and romance, through the eyes of a growing 'bot. In addition to the core storyline, this book includes two short interstitial tales that further explore the world of Re*Pro*Duct.
6. Archie Andrews, The Wholesome-est Teen Alive!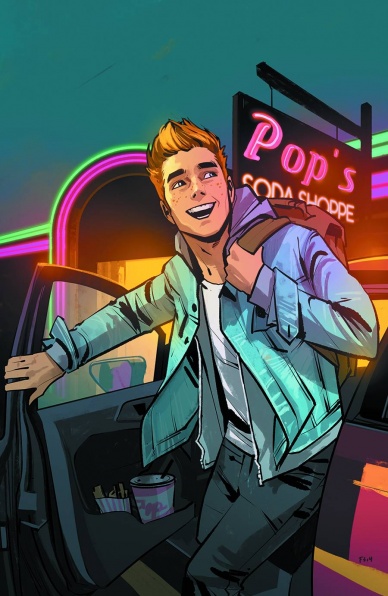 You're probably thinking to yourself, "I never thought I'd see Mark Waid writing an Archie book!". While this isn't the first time he's done so (he has a credit listed in the "Archie Andrews, Where Are You? Comics Digest Magazine" #80), it's also shouldn't come as a surprise that Archie Comics would pull from mainstream comics talent in such just-get-the-best-people-for-the-job manner at this point. Once they decided to do a Archie horror book with Francavilla and Aguirre-Sacasa? All bets were off. You want a crime-based 'hero' book? You get Swierczynski and Gaydos. You want off-kilter but fun superheroics? You get Dean Haspiel. You want an Archie that looks and sounds like a 21st century kid? You get Waid and Fiona Staples.
And if you can't find at least one of the variant covers that looks good to you, then I don't know what to tell you…
Archie #1
Written by Mark Waid
Illustrated by Fiona Staples
Published by Archie Comics

Comic superstars Mark Waid and Fiona Staples reimagine an icon! Change is coming to Riverdale in this can't-miss kick-off to Archie's new ongoing series! Familiar faces return in new and unexpected ways in this must-have #1 issue! As the new school year approaches, you'd think Archie Andrews would be looking forward to classes and fun-but nothing is as it seems in the little town of Riverdale. But is this a one-off or a sign of bigger changes awaiting for America's favorite teens – and the entire town? Find out in this exciting and remarkable first issue!
Continued below
---
---
5. From The Ashes
These volumes, chronicling life during the Shōwa period (or the lifespan of Emperor Hirohito) in Japan, were originally drawn by Mizuki and published in 1989. It wasn't until Drawn & Quarterly picked them up almost two years ago that they were available here in the United States. Mizuki himself lived through this entire period, both as a conscript in the Imperial Japanese Army and then later as a manga-ka in post-war Japan. I've been waiting to get these until the last volume is out; looks like I don't have too much longer to wait.
Shōwa 1953-1989: A History of Japan
Written and Illustrated by Shigeru Mizuki
Published by Drawn & Quarterly

The final volume of the Eisner-nominated history of Japan. Showa 1953-1989: A History of Japan concludes Shigeru Mizuki's dazzling autobiographical and historical account of Showa period Japan, a portrait both intimate and ranging of a defining epoch. The final volume picks up in the wake of Japan's utter defeat in World War II, as a country reduced to rubble struggles to rise again. A former enemy becomes their greatest ally as the USA funnels money, jobs, and opportunity into Japan, hoping to establish the country as a bulwark against Soviet communist expansion. Japan reinvents itself, emerging as an economic powerhouse. Events like the Tokyo Olympiad and the World's Fair introduce a new, friendly Japan to the world, but this period of peace and plenty conceals a populace still struggling to come to terms with the devastation of WWII. The original Japanese edition won the prestigious Kodansha Manga Award; the English translation has been nominated for an Eisner Award.
4. When The Levee Breaks
It's easy to think that, just from the creator list, that this story with a visitor from another planet would be a passion project for only one of them. Waid being the world's biggest fan of the Big S, and growing up in Mississippi, would seem to bear that out. But looking at the credits again, and seeing that Jones is listed as both artist AND co-writer, and seeing that he also grew up in the Deep South (of Walker, LA) makes me think that the 'passion project' label might actually be apt in this case.
The preview pages look gorgeous. If Waid is acting more as a "Kingdom Come"-style enabler and facilitator of Jones' story than he might normally, then I'm completely fine with that as well. Anyone concerned about how a story about racial tensions will be told by two white men should rest assured that these two white men have an excellent track record of working on thought-provoking material. And they have both lived in that region long enough to be able to draw on that experience for this project.
Strange Fruit #1 (of 4)
Written by J.G. Jones & Mark Waid
Illustrated by J.G. Jones
Published by BOOM! Studios

It's 1927 in the town of Chatterlee, Mississippi, drowned by heavy rains. The Mississippi River is rising, threatening to break open not only the levees, but also the racial and social divisions of this former plantation town. A fiery messenger from the skies heralds the appearance of a being, one that will rip open the tensions in Chatterlee. Savior, or threat? It depends on where you stand. All the while, the waters are still rapidly rising…

Two of the industry's most respected and prolific creators come together for the first time in a deeply personal passion project. J.G. Jones (Wanted, Y: The Last Man) and Mark Waid (Kingdom Come, Irredeemable) take on a powerful, beautifully painted story set during the Great Mississippi Flood of 1927. Strange Fruit is a challenging, provocative examination of the heroic myth confronting the themes of racism, cultural legacy, and human nature through a literary lens, drawing from Southern folklore and tradition.
3. Everyone Comes To Mike's
Yet again, another out-of-the-blue pick! If you were to take a random sampling of the best original graphic novels of the last, oh, five years or so, I guarantee you a good chunk of them have been published by First Second. I know my First Second section of the Matiasevich library is growing steadily, and this looks like another easy-to-recommend addition.
Continued below
---
---
Mike's Place: A True Story of Love, Blues, and Terror in Tel Aviv
Written by Jack Baxter & Joshua Faudem
Illustrated by Koren Shadmi
Published by :01 First Second

Mike's Place was one of the few spots in Tel Aviv where Jews, Christians, and Muslims could hang out peaceably, surrounded by the expats who filled the bar every night. It was a cosmopolitan haven from the conflict, a local gem that many pointed to as a hopeful sign that peace could come to the Middle East after all. In the spring of 2003, filmmakers Jack Baxter and Josh Faudem had just begun making a documentary about the phenomenon of Mike's Place. And then the bar was destroyed in a suicide bombing that took three lives and wounded another fifty people – an attack that changed Jack and Josh's lives forever. Mike's Place is a gripping nonfiction accounting of the lives of a handful of people who came together in hope, then had to find their way together through despair.
2. Universal War One! Again! For Real, This Time!
If you were regularly buying comics six or seven years ago, and that cover looks familiar to you, then you are not going crazy. Marvel Comics, through their deal with Soleil Productions, published this material back in 2008 and 2009. The reason I and many other people didn't buy it is that Marvel didn't publish it the way it was created to be published. Like almost all comics originally made in Europe, this one was formatted to be printed in a roughly 8×11-sized hardcover and not the traditionally sized US market comic book. Marvel's reprints were shrunk, with large blocks of white at the top & bottom of the page due to the change in page dimensions, and the translated lettering was annoyingly small as a result. Would the US comics market of 2008 have supported full-size reprints, even from Marvel? I don't know. But I'm sure glad Titan Comics is betting they will!
This release collects the whole saga in hardcover at the original size.
Universal War One
Written and Illustrated by Denis Bajram
Published by Titan Comics

The whole world is at war. And it's about to get worse. 2058. Humanity has colonized our entire solar system. In the middle of a civil war between the core planets and distant outlying planetary settlements, an immense black wall appears, cutting our solar system in two. The black wall absorbs all light and matter, and it's up to a band of disgraced soldiers to investigate the phenomenon.
1. Bravo for Toth!
The top spot this month does not go to an Artist Edition release, but IDW does still claim it with their complete collection of Alex Toth's "Bravo For Adventure". One of the real hurdles for getting an artist like Toth or Kurtzman embedded into the comics consciousness to a degree befitting their talent and impact is that there are very few large chunks of work from them that you can give to someone to say "Here! Look at this!" One of the reasons Kirby is King is due to sheer output. Eisner had the long-running Spirit strip before shifting over to other work. Toth had lots of short stories and flashes of brilliance, but he never had a place where people could see his work on a regular basis (except for animation, I guess). That's started to change recently with the re-release of his Dell Comics' Zorro strips, and last month's collection from Dark Horse of his Warren work. This "Bravo For Adventure" was one of the few things he wrote & drew himself, and while the actual story is something I'm not necessarily familiar with, I've seen enough samples of the storyTELLING in it to recommend it wholeheartedly. It's oversized, fairly priced, and a facet of the Rosetta Stone to figuring out where artists like Samnee, Shaner, Parlov, and Zonjic get their mojo from.
Bravo For Adventure
Written and Illustrated by Alex Toth
Published by IDW

Alex Toth's magnum opus, collected in its entirety for the first time ever! This deluxe hardcover edition contains all three of The Genius's stories starring Jesse Bravo, knock-about pilot and reluctant swashbuckler, including the original graphic novel that's been out of print for 30 years. Also included are never-before-seen pencil roughs, preliminary drawings, and story fragments, as well as Toth's own coloring samples for an edition that never saw print, and-freed from storage after 40 years-some of the coloring for what was intended to be Bravo's original 1975 first printing in France! The ultimate Bravo for Adventure, published by special arrangement with the Toth family!
Continued below
---
---
Well, that was fun! Be sure to check out next week's Robots From Tomorrow Previews episode, and hear us talk about these books and a whole lot more. And let me know what books YOU'RE excited for in the comments section.