The month of July began with the surprising end of Robert Kirkman and Charlie Adlard's cultural phenomenon "The Walking Dead" with issue 193 and was bookended by a triumphant launch of the first of two mini series about a group of mutants by one of the comic book mediums most-respected creators. One of these things just got its only mention in this recap of July 2019. This is a big month for the comic-loving world, so without further adieu, let's get cracking.
Best Issue: "House of X" #1

In a time when so many ballyhooed comic events are released to a resounding "Meh," the first issue of the rejiggered X-Men universe under the stewardship of Jonathan Hickman managed not only to buck the trend but also set a new high water mark for how a reboot should be: accessible to new and lapsed readers and rewarding for longtime devotees. The X-Men aficionados I know were swooning over this one's fan service and crackling high concept premise and what it means for the future of the X-Men universe. This ex-X reader was immediately hooked by the book's mysteries and intriguing setup for the remaining five issues (along with the interconnected six-part miniseries "Powers of X").
The issue is a carefully crafted feat of editorial and graphic design, and Pepe Larraz's line work combined with Marte Gracia's colors manage to be both economical and lushly hyper-detailed. It takes a lot of skill to make pages that flow this effortlessly through Hickman's dense bonus-sized scripting with nary a speed bump. As a first issue it's a triumph. As a first issue saddled with insanely high expectations, its peerlessness is a true rarity. Hickman's X-Men aren't messing around here, and with "House of X" Hickman seems not only to be putting them back atop the evolutionary pyramid but also back at the top of Marvel's intellectual property heap as well.
Best Writer: Tom King
The month of July included the beginning of the end of King's 85-issue run on DC's flagship Batman title with issue 75's 'City of Bane' storyline, and the bonus-sized issue was a kick in the pants after the introversion and psychological delving of the previous arcs. There's some of that here too, but King has delivered a vision of Gotham under the rule of Bane that feels more urgent. King, who was asked to shorten his planned 100+ issue run on the title may be ready to deliver his best scripts on "Batman" yet with the end in sight, but let's be honest here, as good as Batman 75 is, King really gets the edge over Hickman's rapturously-received "House of X" and "Powers of X" premieres for other reasons.
King collected some serious hardware at the 2019 Eisner Awards held on the evening of July 19 during Comic-Con weekend in San Diego. A recipient of the Eisner for Best Writer in 2018 (a recognition he shared with Marjorie Liu, writer of the much-celebrated "Monstress"), King added four more Eisner Awards to his mantle including a repeat win for Best Writer (alone, this time), Best Limited Series ("Mister Miracle"), Best Short Story ('The Talk of the Saints' from "Swamp Thing Winter Special"), and Best Graphic Album–Reprint ("The Vision"). If that wasn't enough, King revealed during an SDCC panel that he was starting work on the New Gods film with Ava Duvernay the following Monday in Los Angeles and that Duvernay had asked King to start putting together a team of Jack Kirby experts to consult on the film. Apparently his time with Duvernay went well.
Best Artist: Sean Murphy

There's a lot to love in Sean Murphy's Gotham city that looks like it was spawned from production designer Anton Furst's drawings for Tim Burton's 1989
Batman
film. The homage is likely intentionally as Murphy borrows liberally from everything in the last three decades of Batman comic, television, and film oeuvre while adding his own distinctive design touches. Giving Murphy carte blanche to create his own Batman universe clearly agrees with him, and the first issue of
"Batman: Curse of the White Knight,"
the follow up to 2018's "Batman: White Knight," arrived July 24 with the same inventive and go-for-broke aesthetic that made the previous series such a joy. Unshackled from the finer points of continuity, Murphy's pop-collared Batman is faced with a mystery that could crumble his family's legacy, and the architect of the plot is a suspender-wearing Joker whose Conan O'Brien pompadour defies gravity. Murphy's penchant for sketchy straight edges, dramatic angles, and richly-varied page compositions is on full display here, and the story is an intriguing one as well, but that's a different category. While the artistic statement made in this issue doesn't waver from the one made in the previous series, it's such a welcome return that reader's won't mind the familiarity.
Continued below
---
---
Best Publisher Crossover Premiere: "Black Hammer Justice League" #1

The giddiness that rippled through comic-loving corridors when this mini series was announced was matched by the good to great reviews when the first installment dropped on July 10, and yet it feels like more people should be crowing about this out-of-left field mashup of the exiled Golden Age analogs from Black Hammer and DC's premiere superhero team. A crossover in the most literal sense of the word, the Justice League finds themselves tranported to the Rockwood farm that is the principal setting of Jeff Lemire's Black Hammer-verse while the atrophied heroes of Black Hammer are sent to face down Starro on the streets of Metropolis by a stranger who bears a striking resemblance to Mister Mxyzptlk, the reality-warping trickster who can't say his own name lest he be transported back to the Fifth Dimension he calls home.
The first issue has everything you've come to expect from Lemire's clever plot constructions, witty dialog, and comic book homages evident in his Black Hammer books. The only thing missing is the baked-in melancholy of Lemire's Dark Horse Comics franchise, but that's to be expected for a book designed to lure readers of mainstream super hero books into Lemire's darkly bucolic world. Many times with crossovers you get a comprised version of the two things that are being combined. Here, Lemire has found a way to give readers a glimpse into the type of plotting that they don't normally get to see in the respective franchises, and both properties are all the richer for it. Michael Walsh's thick-lined and beautifully expressive artwork is a nice blend of the two series' aesthetics too.
Best Comic-Related Media News Out of SDCC: Marvel's Phase 4 lineup

On the Saturday afternoon of SDCC, every self-respecting comic nerd's social media feeds were clogged with the announcements of Marvel Studios's Phase Four film and Disney+ streaming lineups. With Avengers: Endgame closing the book on the MCU as we've know it, it feels like 2008 again, but this time Marvel is playing with house money in the form of viewer goodwill earned from a successful and rousing denouement for its Avengers saga and more than a few hold overs from the previous ten years of films to bridge the gap into their next cinematic era. While there were a few noticeable omissions in the formal reveals (Black Panther, Captain Marvel, Guardians of the Galaxy, and the recently re-acquired X-Men and Fantastic Four properties), this roster of films seemed geared more toward experimental and perhaps auteur-driven stories with perhaps less connective tissue than we've grown accustomed to having with Marvel.
Surprises came in the form of Natalie Portman's Mjolnir-wielding appearance to formally announce her return to the Thor franchise (inspired by Jason Aaron's comic run), the announcement of a Blade feature film with two-time Oscar winner Mahershala Ali in the title role, and the reveal of a title card for the forthcoming animated What If…? Disney+ project featuring Jeffrey Wright as the voice of Uatu the Watcher. While the announcement of The Eternals didn't come as a surprise, it may be the bedrock on which this phase of films is built. Jack Kirby's metahumans, created in 1976 after returning to Marvel after a few years away working at the distinguished competition, would provide a mythic scope for a more fantastical and less scientific phase for Marvel Studios. The Eternals is set to arrive in theaters on November 6, 2020, and it feels like a long wait after the embarrassment of MCU cinematic riches over the last few years. Between now and then speculation will abound, trailers will be dissected, and predictions for the future of the MCU and all comic book-based films will be nigh unavoidable. What a time to be alive!
Best Comic News Out of SDCC: "Strange Adventures"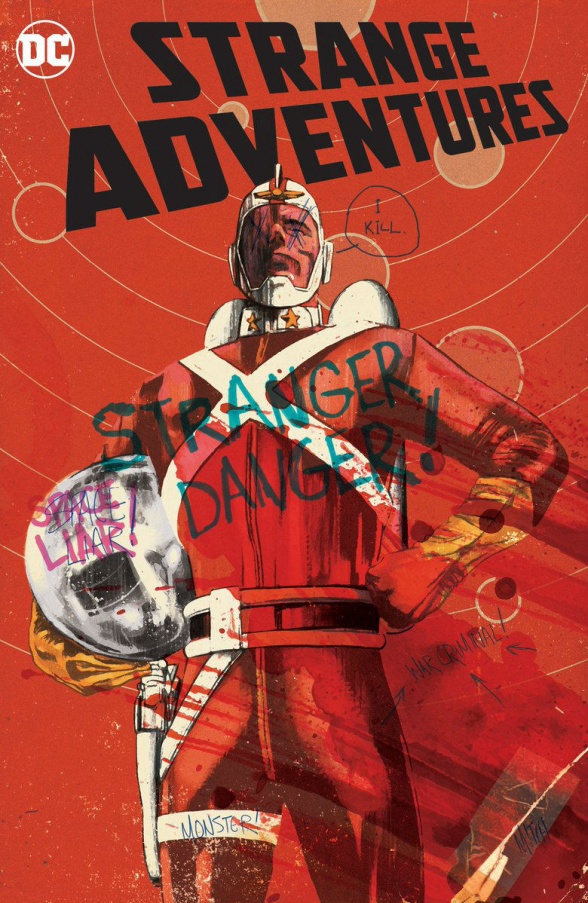 The Eisner-winning team behind "Mister Miracle" returns for a crack at reimagining another B-list character from DC's publishing history, and this time they're bringing Evan "Doc" Shaner with them. The mind reels at how the classic superhero style of Shaner will combine with Mitch Gerads's wildly inventive digital techniques. While little is know about this project yet, we can certainly expect a refreshing take on the Silver Age-era character that summons 21st Century themes of isolationism, community, and love. Comic book lore is riddled with stories of men from other worlds. Krypton's Superman is nothing if not the ultimate immigrant. It's not impossible to imagine Tom King's Adam Strange, who is transported from our planet to the distant world of Rann via a Zeta Beam, as a vessel for a timely and thoughtful story about being a refugee in a strange land.
Continued below
---
---
Best McGuffin: The Fabergé egg in "Batman Universe"

Earlier in the month, I gushed about the first installment in "Batman Universe", particularly on the merits of Nick Derington and Dave Stewart's spinner rack-era artwork and Brian Michael Bendis's somewhat-less-dark Dark Knight, but as the issue (reprinting the stories found in DC's Walmart-exclusive "Batman 100-Page Giant" #3 and #4) has marinated over the intervening weeks, the story's McGuffin, the nearly-priceless Fabergé egg that will serve as the story's propulsive prop, is emblematic of the story's most enjoyable throwback charm. It's the plot device that will lead Batman through a myriad of cameos and plot twists. Who knew that retrieving a Russian bauble could be so fun?