"You think you know a story, but you only know how it ends. To get to the heart of a story, you have to go back to the beginning."
These are the words that begin the opening title sequence to Showtime's (or BBC Two for our UK folk) 2007-2010 historical fiction drama The Tudors. And drama it was. Created by Micheal Hirst, The Tudors followed Jonathan Rhys Meyers as King Henry VIII of England (and France and Ireland) and chronicled in a somewhat condensed time period the reign of Henry. The timeline begins about the time he met Anne Boleyn and began to pursue her in what should have been 1525, to Henry's death in what should have been 1547. I say condensed, because the show makes it seem like most of its events take place over the course of about five years or so instead of the actual almost 40 years of Henry VIII's reign. At least they make the whole thing really, REALLY, sexy though.
The Tudors stars a bunch of beautiful British, French and Irish actors, being beautiful and having tons of sex. From Natalie Dormer to Henry Cavill (yes you get to see Superman's ass) the show wastes no time dropping you in to the private lives of the court of Henry VIII filled with scandal, violence, death, reform, martyrdom, war, plague, you name it. The show has been reviled by many historians for a multitude of inaccuracies, the Wikipedia page chronicling many. However, over the course of four seasons and 38 episodes, The Tudors offers as in depth of a dive into the reign of the most famous Tudor monarch as most lay people are like to get. And for that it succeeds.
What the show does is give you a possible visual of what it might have been like to live in England in the 16th century. Winning Emmy's for Outstanding Costume Design, the show offers a visual delight and creates a tether to a time period the history books you read as a child most likely did a scathing injustice to. It creates what many would dub a sense of "historical empathy," a chain, a rope, a lifeline to the lives of an infamous king, his six wives, their court, their country, and events that still have profound consequences for the way life is conducted today.
Now what does any of this have to do with comics? After all you're reading We Want Comics, a column about properties we'd love to see have comic book adaptations, why is this person lecturing me about history? Comics, first and foremost, is a visual medium. As such, it is ripe for the work of historical empathy. Comics can do a better job at what history books and textbooks have been doing wrong for so many years: giving you a reason to give a shit about history. They can give you that same visual insight in to what people might have looked like and give you a deeper historical connection to people and places you can only dream about. If I had had a comic or more easily accessible historical fiction books to read in elementary school, high school, and so forth, I would have discovered a love of history far earlier than I did when I got to college. It's all about telling a better story, one that's hard to tell when the teaching of history, at least in many places in Texas, is relegated to the purview of a coach. They gotta teach something I guess if they have to coach football.
For this installment of We Want Comics, I am imagining a Tudor-verse of comics, one that would pair a historian or historical fiction writer with a comics writer and artist to give you the visual feast that history has always been and your history always will be. We'll be taking The Tudors as our basis, not because it's particularly great history (or sometimes great acting), but because it is the foundation of a good "what if?" And, if these comics were given the look of the series and the writing of historians, they could correct much of the inaccurate information presented in the show in a very "meta" comics way. With all that in mind, let's dive in!
Continued below
---
---
"The War of the Roses," 15 issues Written by George RR Martin (A Song of Ice and Fire) and Jason Aaron, Illustrated by Russell Dauterman
So this first pairing is not really a historian pairing, but a name that may be more familiar to many of you reading this article. Martin's A Song of Ice and Fire is very loosely based on the War of the Roses that saw the Houses of York and Lancaster face off in a series of battles for kingship from the years 1455-1487. Suddenly the Houses of Stark and Lannister seem to make more sense. The end of the conflict saw the first Tudor monarch ascend to the throne, Henry VII, after he defeated Richard III at the Battle of Bosworth Field and cemented his claim to the throne by marrying Elizabeth of York. This could conceivably be the prologue to the prologue of The Tudors, with the background knowledge of how Henry VIII's father ascended to the throne and how the age of the Tudors began. Of course it's history, so you could prologue as far back as you wanted. Jason Aaron and Rusell Dauterman's recent build up in "The Mighty Thor" to the forthcoming "War of the Realms" at Marvel featured big battles and tons of action, beautifully depicted by Dauterman's deadly sexy art. I would love to see what they could bring to big, bloody British battles.
"Henry VII," 12 issues Written by Susannah Lipscomb (A Journey Through Tudor England, The King is Dead: The Last Will and Testament of Henry VIII,) and Saladin Ahmed, Illustrated by Lenil Francis Yu
Alright now to the actual prologue and on to the English king that Shakespeare didn't write a play about, Henry VII. The Tudors spends very little time talking about Henry's dad and mostly focuses on the (huge) cast of characters at hand. But, why does the Duke of Buckingham think he has a better right to the throne? Or the Pole's in later seasons? Well all that begins here. Lipscomb has written several books about Henry VIII, perhaps the University of Roehampton professor would like to try her hand at his father? Specializing in the Tudor court, there would be a lot to cover in the 25 years of Henry VII's reign, but Lipscomb could focus on Henry as a king and also the beginning of many of the conflict's Henry VIII would face in his reign, seeding them in to her book. Ahmed has proven he can tackle intimate, in-depth character work from his time on the Eisner-wining "Black Bolt," and Yu would bring a hardened shadowy style to a time of coming out of the dark and deep transition.
"Thomas Cromwell," 8 issues, Written by Hilary Mantel (Wolf Hall, Bring Up The Bodies) and Warren Ellis, Illustrated by Mikel Janin
Thomas Cromwell, son of a blacksmith, rises the ranks as an assistant to Cardinal Wolsey, is Henry VII's most trusted advisor and helper of securing his marriage to Anne Boleyn, and then is executed by Henry in 1540. No one is more shrewd, cunning, devious, and passionate than Cromwell. For many years historians had a far more negative view of Cromwell, not helped by Robert Bolt's 1960 play A Man for All Seasons in which Cromwell definitely makes sure Thomas More gets martyred. Hilary Mantel, however, in her two Booker Prize winning historical fiction novels paints quite a more likable picture of Cromwell. Or at least more complex. The first two books have already been made into a BBC six-part series and now a play, what's to stop her from contributing to bringing James Frain's Tudors character to life? Pairing both her intimate more positive outlook of Cromwell, Ellis' nack for deep complexities and tragic humans, we got ourselves both sides of the Cromwell debate. Plus, Janin's been doing the work of his life over on "Batman."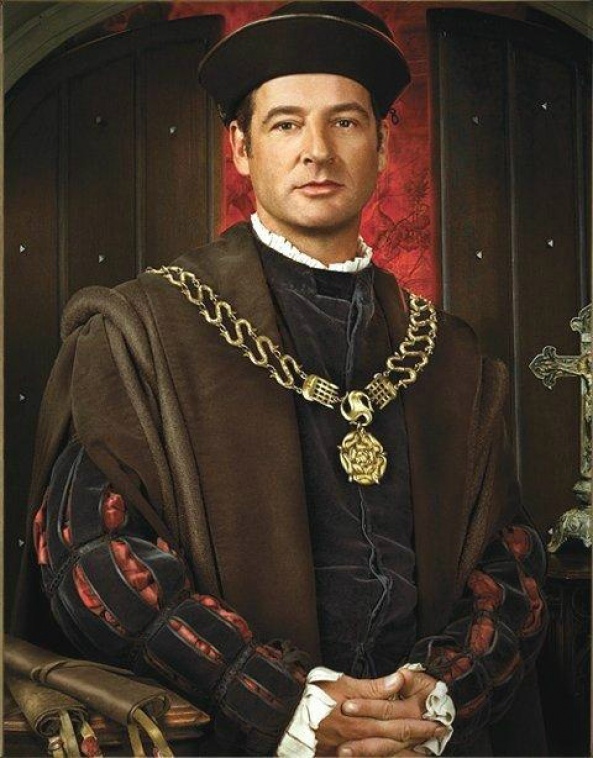 "Thomas More," 8 issues, Written by John Guy (Thomas More: A Very Brief History, A Daughter's Love: Thomas More and His Dearest Meg) and Jonathan Hickman, Illustrated by David Marquez
Continued below
---
---
The sainted More gets a far nicer portrayal in The Tudors than he does in Mantel's Wolf Hall, much to do with Jeremy Northam's kindhearted run as the martyr. Well, kind until he starts burning people at the stake. Anyway… John Guy has written a ton of books about the Tudors, and multiple books about More. The Cambridge professor also has a biography of Saint Thomas Becket who More modelled much of his life after making him the perfect choice to either accept or reject Northam's More. Plus, given the added benefit of having Hickman aboard, a writer who has incorporated much about the dark sides of religion in to his comic work, you got the making of the saint, torturer, scholar, Utopia writer, and martyr all captured beautifully by David Marquez.
"Divorced, Beheaded, Died, Divorced, Beheaded, Survived," 18 issues, Written by Alison Weir (The Six Wives of Henry VIII, Jane Seymour: The Haunted Queen) and Greg Rucka, Illustrated by Bilquis Evely and Kris Anka.
Named after the helpful jingle to remember all of Henry's queens, "DBDDBS" would serve as a more in depth dive in to the lives of all of Henry's wives. The Tudors basically tells the story of Henry VIII's reign, fairly exclusively, through the lens of Henry. There are definitely scenes of all the queens, but Jonathan Rhys Meyers absolutely gets top-billing every episode. What if we took a deeper dive in to the lives of Katherine of Aragon, Anne Boleyn, Jane Seymour, Anne of Cleaves, Catherine Howard, and Catherine Parr, and see what they better have to say about The Tudor dynasty. Alison Weir has spent her life writing popular history about the Tudor monarchs and other English rulers and has made the jump to historical fiction novels also. Greg Rucka has a definite handle on writing strong woman from multiple runs on "Wonder Woman" and would only serve to elevate Weir's transition to comics. Plus, Evely and Anka draw some of the most ornate wardrobes in comicdom, a wardrobe fitting for queens.
"The Tudor Anthology," ongoing, Written by Diarmaid MacCulloch (All Things Made New: The Reformation and its Legacy,) Philippa Gregory (The Other Boleyn Girl), Tracy Borman (The Private Lives of the Tudors), Peter Ackroyd (Tudors: The History of England from Henry VIII to Elizabeth I), Joelle Jones, Jeff Lemire, Chelsea Cain, Rainbow Rowell, and Mags Visaggio, Illustrated by Joelle Jones, Babs Tarr, Greg Capullo, Stefano Caselli, Javier Rodriguez, Kate Niemczyk, Nicola Scott, and Rafael Albuquerque
In The Tudors we really don't get a great look at what is going on in the rest of England during the reign of Henry VIII. What is going on in the rest of Henry's court when Henry isn't around? How does the rest of the country handle the Reformation and Acts of Supremacy? What is village and town life life? All these questions and more would be answered in this anthology. It would also give spotlights to characters like Henry Czerny's Thomas Howard and Hans Matheson's Archbishop Thomas Cranmer who are written out of the show but are definitely still around doing things. With a mixer of credible historians, pop historians, and whatever the hell Philippa Gregory is, this anthology could flesh out the rest of the Tudor world. I kind of just threw a lot of my favorites into the mix here on the comics writer and artist side, but I think all of them fit the style and interests that have been previously expressed above, and could continue to give life to this world.
"1548+," sets of miniseries, Written and Illustrated by many of the creators listed above
Finally, what happens after Henry VIII dies? His son with Jane Seymour, Edward VI, reigns (sort of) until he dies at 15. Edward is followed by the 9 day reign of Lady Jane Grey, then Mary I, and then Elizabeth I. The story of the Tudors continues for over 50 years, as interesting and complicated as what came before. This series would follow these monarchs as they reigned and the world continued. So many licensed comic properties have books that continue the story from the television show or property they're based off of. This would be no different.
Continued below
---
---
This may be a little bit different than the kinds of properties you are used to seeing here on We Want Comics, but I 100% believe that the comic book medium is ripe for the historical fiction genre. The medium is perfect for historical fiction that allows us to draw connections with the past that are important for our present. Works that would help us begin to see history as more than words on the page, but as living people, places, and actions that continue to influence how we live today. The Tudor period in England, a period that most people at least know something about, is ripe for that kind of investigation.
Do you have any thoughts on historical fiction and comics? Are there comic historical fictions works that already exist that you're excited about? Do you have more creative team suggestions? Let us continue the never ending dialogue of history in the comment section!