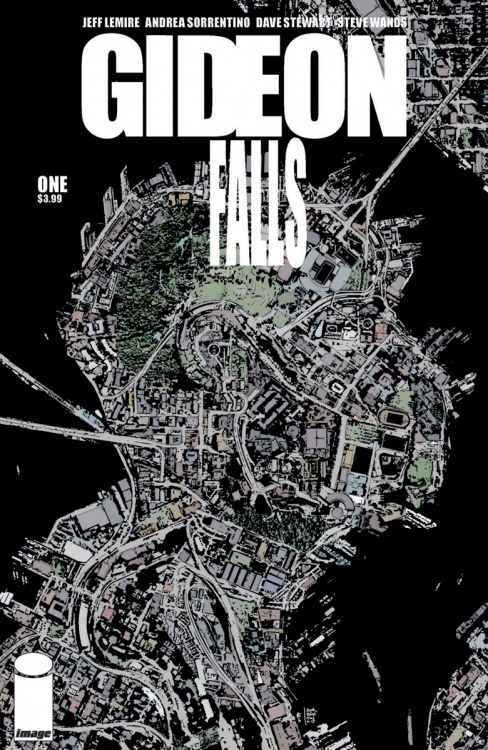 We have been pretty stoked ever since we heard about "Gideon Falls," the new Image series from Jeff Lemire ("Royal City," "Black Hammer") and Andrea Sorrentino ("I, Vampire," "Guardians of the Galaxy and X-Men: The Black Vortex"). As you may be aware, this is not their first book together; they crafted runs on both "Green Arrow" at DC and "Old Man Logan" at Marvel. For this, their first Image book together, they are telling the story of, as our own Christopher Chiu-Tabet said in the initial news post, "Norton, a mentally ill young man who becomes obsessed with a conspiracy concerning the city's garbage, and Father Fred, an older Catholic priest who recently moved to the countryside, and is starting to struggle with his faith. They become drawn together as both uncover the mystery of the Black Barn, the source of evil in the story, as well as another local urban legend."
We recently spoke with Jeff a little bit about the book (as well as his title of Best Writer of 2017, as vote by our staff), and it landed on our Top 10 for Soliciting Multiversity: Image's March list, but that only scratches the surface. We are exclusively debuting the trailer for the series below, but we are also planning on being the place for "Gideon Falls" content. We are partnering with the creative team to put together some exclusive content each month, in the form of process pieces, interviews, and lots more – including some absolutely crazy ideas – starting with the series' debut in March.
So, check out the trailer, and be on the lookout for more "Gideon Falls" and Multiversity content later this year. If you haven't pre-ordered the book just yet, we've also included a handy order form to bring to your local comic shop.