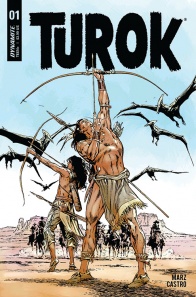 Dynamite Entertainment has announced a new "Turok" series for 2019, according to Newsarama. Set in the Old West of the 1880s, the new series written by Ron Marz ("Green Lantern") and illustrated by Roberto Castro ("Red Sonja") will follow Turok as he pursues his kidnapped brother, and the soldiers who captured him, into a strange land populated by creatures from beyond their imaginations.
"I wanted to build my Turok story by going back to the original version, not so much in terms of the specifics, but in terms of the spirit. We're not imitating anything that's come before, but we're definitely trying to capture the feel of what made those stories cool," said Marz. The character of Turok first appeared in "Four Color Comics" #596 in 1954 before acquiring his own title in "Turok, Son of Stone" in 1956. Dynamite Entertainment began publishing books featuring Turok in 2013 with "Turok: Dinosaur Hunter" thanks to a licensing deal with DreamWorks Classics.
"Turok" #1 will have several variant covers featuring art from Bart Sears (the Valiant era "Turok"), Butch Guice ("Captain America"), and Jeffrey Veregge ("Red Wolf").
"Turok" #1 is slated for release in January 2019 and will be available for purchase through comic book retailers as well as various digital platforms.