We've had a lot of words to say about a little book called "LP." We ran an interview with artist Ramon Villalobos for Artist August and did an interview with Curt just because we like him, each of which featured little teases of the book, and I've done nothing but talk about how much I enjoyed the comic. It's an engrossing and sharp little read, with a clever storyline and killer art — and, most importantly, it's a book that you not just want, but need.
Why? Because this, people, is the next big thing. We're prone to hyperbole on Multiversity on occasion and that's a given of most comic-related journalism, but note it as true regardless: "LP" is fantastic, and it's a firey Phoenix-esque birth of two talented comic creators. Curt Pires' story here is the best music-related comic since an unknown Gillen/McKelvie duo released "Phonogram," and it comes a the angle of music being magic in a fresh and unique way full of ultraviolence and Brian Wilson. On top of that, Ramon Villalobos stands to be your new favorite artist — the next Burnham, the next Quitely, the next Pitarra. The two mix together for a visceral comic cocktail that's impossible to ignore, and it's all contained within a comic so good I don't even need to read anything else to know that this is the best of the week.
So yes, it's all very big praise, but it's incredibly justified. It's not often that a comic comes around from two completely unknown creators that blows minds and brains as big as "LP" does, and yet now that "LP" is almost here I can't help but feel excited — excited that others will get the chance to read this book, excited that they'll be able to share in what I already know. Most creator-owned comic creators, both those known and those unknown, will tell you that to "make it" all you need to do is produce good comics, get them out in the open and the rest will happen on it's own. Well, if that's true and Curt and Ramon don't make it big, then the entire system needs to be re-evaluated because fuck this comic is damn good.
But hey, I'm clearly biased: I've already read the comic and fallen in love. I can't help but sing it's praises because I was lucky enough to view a sneak peek of it, and the second I got the opportunity to order a copy I did. All I'm saying is: if you've ever trusted Multiversity as a source, or even myself, then do yourself a favor and get yourself a copy of "LP."
Don't just take my word for it, though. Would a 6-page lettered preview help whet your appetite? Then feast your eyes: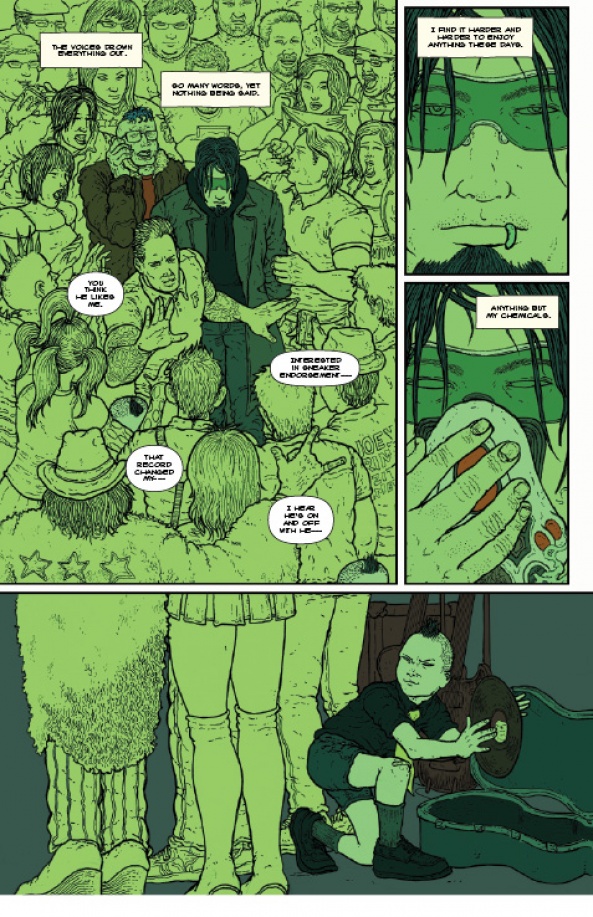 Last year "Our Love Is Real" was the talk of the town. This year it will be "LP." Act fast and get your copies now, while you can.
Check here to see if your local retailer will be sporting copies of the book, or order directly from Curt online via BigCartel. Whatever way you pick, just make sure you end up with a copy.