This is the last one shot before the next Baltimore miniseries, and trust me, you don't want to miss it.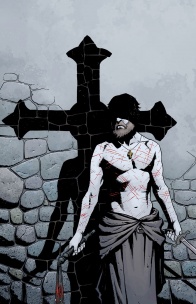 Written by Mike Mignola and Christopher Golden
Illustrated by Ben Stenbeck
Colors by Dave Stewart

The sadistic Judge Duvic, who we've seen serving God's vengeance on women and children, nearly has Lord Baltimore in his grasp, but first he has to face Baltimore's last few friends in this doomed, war-torn world.
I was on edge right from the beginning of this one. After the end of The Curse Bells it was clear Judge Duvic and Simon Hodge were going to run into each other sooner or later, and given what the Judge did to Hans and Marta in that book, it wasn't going to be a pleasant meeting. That and I'd gotten to like Simon, and I really wasn't ready for him to be hideously mutilated or, far more likely, tortured to death. So reading this I was full of dread. And that's a good thing.
I want to start off by saying how great it is to have Ben Stenbeck and Dave Stewart on art duties, not just for this issue, but for the entire series. A comic like Baltimore relies so heavily on mood, and these guys really deliver in spades. Right from page one, I was back in the world of Baltimore. It's immediately familiar and it's easy to slide right into the rhythm of it. And that's really fantastic for a one shot like this were every page counts. Even something as innocuous as body language is consistent from story to story, and with characters that contrast as much as Judge Duvic and Simon Hodge do, it really shows.
All this stuff is invisible when you read the comic, of course, which is a sure sign it's working and makes for an effortless read.
OK, so on to the actual plot. Christopher Golden has been teasing this story in interviews for over a year now, saying we'd learn more about Judge Duvic, that it would change him forever. In his previous appearances, Duvic's role was simply the face of the Inquisition, to be a force more than a character. This makes for a great villain, but it also means when you start to flesh him out more, you run the risk of demystifying him. Unless you're Mike Mignola and Christopher Golden, of course.
Most of this story is dedicated to the transformation of the orphan André into Judge Duvic, under the guidance of the brutal Father Corin. I loved the scene at the butcher. Young André stood at the doorway, its frame dripping blood. As he stepped inside, a shadow fell over his face, until in the final panel of the sequence it is obscured completely. It was a fantastic moment of visual storytelling. I suppose this story makes him a little more sympathetic, but mostly it just made him creepier. He's a man that has committed incredibly violent acts with no sense of remorse at all, yet he has the hide to claim it doesn't affect him.
I'll be interested to see him go up against Lord Baltimore in The Infernal Train. The two characters are so alike. Judge Duvic is practically a distorted reflection of Baltimore. The main difference between the two is Baltimore is still capable of empathy. He resents it, and sees it as a hindrance to his mission, but it's still there, and he can't ignore it. In many ways, it's one of the few things keeping him human.
As for Hodge, it was great seeing him defiant in the face of a madman. He was such a timid fellow when Baltimore first met him in The Curse Bells, and it's nice to see the effect their encounter has had on him.
Warning: I'm about to discuss spoilers. Skip to the verdict if you want to avoid them.
And there was that other character that showed up. Honestly, I never expected to see Vanessa Kalderas again. I had naïvely assumed her role in The Plague Ships was to serve as a viewpoint character through which readers that hadn't read the original novel would become acquainted with Lord Henry Baltimore. Her appearance in this story was only brief, but pivotal. Since I don't speak Romanian, I ran her last words through Google Translate and got, "You cannot? I hide the beast in your heart." Whatever curse she has laid on Judge Duvic, she has changed him forever.
Continued below
---
---
I really breathed a sigh of relief when Simon escaped. I'm glad I'll get to see him again, though I'm sorry Vanessa had to bear the cost. This ended on a far less bleak note than I was expecting (even though someone died). Simon escaped with nothing more than a bloodied nose!
Spoilers over.
I find myself wanting to reread Baltimore from the beginning again. This story is the breath before the plunge, touching on elements from previous stories while setting pieces in place for something big. If you are a Baltimore fan, this is a story you can't afford to miss. Even if you're new to the series, The Inquisitor is easily accessible and well worth getting a hold of.
Final Verdict: 8 – Get it. Get it now.