Buying comics can be an expensive hobby. A lot of fans simply can't afford everything they're interested in, due to rising prices and the over-saturation of the market with superhero titles.
That's why we're here. Every week, the Multiversity staff is asked "What would you buy this week if you couldn't go over $20?" and shares their reasons why, in order to help others who might have similar tastes make their own decisions in buying comics on a budget. Be sure to leave your own picks in the comments!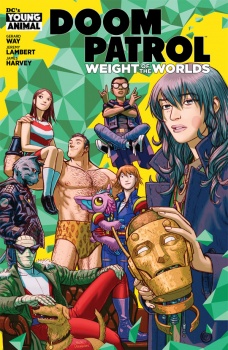 Nick's Picks:
"Doom Patrol: The Weight of the World"s #1 ($3.99) – My favorite series of 2017 is BACK! And with guest artist James Harvey this time! Harvey and Way are sure to dream up some insanity beyond anything we could imagine.
"Giant Days" #52 ($3.99) – Still one of the best. Four more issues, so enjoy it while it lasts.
"Ms. Marvel Annual" #1 ($4.99) – The last Visaggio Marvel work I read was her Dazzler one-shot, which was one of my favorite one-shots the year it came out. Stick her on an oversized issue of one of my favorite Marvel characters and I'm going to check it out.
"Deathstroke" #45 ($3.99) – Hey! Priest is still doing his auteur thing! I have no idea where this is going, but that's part of the fun!
Total: $16.96
Vince's Picks:
"Sea of Stars" #1 ($3.99) – Gorgeous-looking Stephen Green science fiction art, co-written by Jason Aaron and Dennis Hallum, and suitable for all ages? What's not to like about the pitch for "Sea of Stars"? Image Comics has long been known as a creator-owned publisher where mostly mature titles for adult readers were found. I'm sincerely hoping that this book can find a wide audience and inspire more creator-owned monthly comics to reach out to readers of all ages, without dumbing things down or simplifying the message.
"The Wild Storm #24" ($3.99) – Warren Ellis and Jon Davis-Hunt bring "The Wild Storm" to an explosive and surprisingly inspirational conclusion. Davis-Hunt specifically needs some more recognition for sticking it out for 24 straight issues without a break. I'm not sure this series is being talked about enough, but in the age of the fill-in artist, what he did was nothing short of spectacular.
"Doom Patrol: Weight of the Worlds" #1 ($3.99) – There will never not be room on my pull list for the World's Strangest Superheroes.
Total: $11.97
Kate's Picks:
"The World of Black Hammer Encyclopedia" ($3.99) – This is one of these wonderful ways that comics become more accessible: the occasional one shot that provides an introduction to the universe. Valiant did this last week with their Valiant Universe handbook, and now we have one for Jeff Lemire's "Black Hammer". No doubt even longtime fans will find something new in this one-shot.
"Lois Lane" #1 ($3.99) – First off, that Jenny Frison variant cover is stunning. Taking Lois out of Metropolis opens things up to new adventures, but giving her some connection back to Supes with some sort of secret that puts his life in danger still ties her to her famous better half. The potential here for character growth is endless.
"Giant Days" #52 ($3.99) – I am going to savor every single one of these last issues like a fine wine or fine chocolate, knowing we only have a precious few left.
"Ms. Marvel Annual" #1 ($4.99) – Kamala versus the Skrulls. Pull up the popcorn. It's getting real.
Total: $16.96
Kyle's Picks:
"Sea of Stars" #1 (3.99) – Big week of first issue books. I try to not just pick books that first issues because they are new but all these books look great. Starting off, "Sea of Stars". Jason Aaron teams up with Dennis Hallum to write this new series. Both Marvel heavy guys lately so excited to see what they do with a Sci Fi creator owned book. Stephen Green is a great artist. He has "Hellboy" on his resume so that is all you need to know. I am also a sucker for a story that features dad and his young son. This has all the makings of a solid pick.
Continued below
---
---
"Space Bandits" #1($3.99) – Say what you want about Millar but he can still hit it out of the park on a unique story concept. I also think his best books recently are the ones that focused great characters like "Huck" and "Starlight". I think "Space Bandits" being focused on two women, Thena Khole and Cody Blue, searching for revenge gives me hope this could be a really great character driven story. Or it could be a violent all out gore fest but Matteo Scalera is drawing it so it will look beautiful no matter what. I think it's a perfect fit for Matteo's style and I honestly have high hopes for this. Millar loves to swing so often its either an out of the park home run or a strike out but you can't say he does not go for it.
"No One Left to Fight" #1(3.99) Speaking of great concepts, "No One Left to Fight." I was instantly struck but the idea of "What does a fighter do when there's no one left to fight?" It is brought up from time to time in comics this idea of heroes knowing nothing else but the fight. I think maybe Avengers: Age of Ultron hinted at this with Cap as well. It is a cool way to bring comics and personal reflection together at a logical meeting point. That and Fico Ossio's bright detailed art are a great pair.
"Doom Patrol: Weight of the Worlds" #1 (3.99) – James Harvey is all the reason you need to buy this comic. Of course it's "Doom Patrol" and the team and story is fun and wacky. But James Harvey is an artist who is criminally underused in comics. In my mind he is so unique when it comes to layouts, tones, textures, colors, you name it. It is an experience. He merges European and manga styles into something all its own. Him on a "Doom Patrol" title is a match made on Danny the Street.
"Lois Lane" #1 (3.99) Greg Rucka writing investigative journalist Lois Lane. Don't mind if I do. Rucka is great at bringing life to fringe of the DCU. See "Gotham Central". He is also great at writing female driven detective dramas. See "Stumptown", "Whiteout".
Total: $ 19.95
Mark's Picks:
Hellboy: 25 Years of Covers ($34.99)— Oh my god, what a surprise! The guy that writes the Mignolaversity column is recommending a Mignola art book! Yeah, I know I'm predictable to a fault, but I have to pick this one. Seeing the colored cover art sans trade dress in an oversized format like this is simply too good to pass up.
Total: $34.99. This was a tough week to keep under $20. There's a lot of good stuff all coming out today (Ahem! "Monstress" hardcover), and truth be told, I'd have trouble keeping it under $200 let alone $20.