Wake me up when September begins, because we've got more comics on the way. Several of them, such as "Black Widow" and "Juggernaut," we covered in previous Soliciting Multiversity articles, as they've been pushed back due to current events. In such a case, they're not included on this list so we can focus on previously unannounced upcoming comics. It doesn't mean they're not worthy of a spot on the list, just that we've already covered why they're worth getting.
With that out of the way, let's begin!
10. So Much Spider-Man
We've got a few "Spider-Man" comics worth highlighting this month, so let's start with "The Amazing Spider-Man." We've got a collection of fantastic writers and artists coming together for a story that brings both Green Goblin back and Sin-Eater up as major threats. Throw in a few short stories at the end to celebrate the phenomenon that is Spider-Man and September is off to a good start.
Amazing Spider-Man #850 (#49)
Written by Nick Spencer, Tradd Moore, Kurt Busiek, and Saladin Ahmed
Illustrated by Ryan Ottley, Humberto Ramos, Mark Bagley, Tradd Moore, and Chris Bachalo
Cover by Ryan Ottley
Variant covers by Mark Bagley, Mahmud Asrar, Chris Bachalo, Nick Bradshaw, Mark Brooks, Olivier Coipel, Inhyuk lee, Patrick Gleason, J. Scott Campbell, Joe Quesada, Humberto Ramos, Bruce Timm, and Skottie Young

AMAZING SPIDER-MAN reaches another landmark and we're celebrating Spider-Style!
• As if things weren't bad enough for Spider-Man with Sin-Eater's reign of terror reaching riot level… THE GREEN GOBLIN IS BACK!
• Spidey has been through a lot, but even the worst things that have ever happened to Spider-Man have just been a prelude for what happens here, with an epic main story by a veritable Hall of Fame of Spider-Creators.
• As if that wasn't enough, this issue also boasts a collection of prestige short stories by Tradd Moore, Kurt Busiek, Chris Bachalo & Saladin Ahmed!
9. Fantastic Fallout
"Empyre" is coming to an end, but its impact will be felt in multiple comics. To start with, let's look at the Fantastic Four. The solicit boasts two turning points for the Marvel Universe and the return of a cosmic character, so if the comic can deliver half of what it promises, it's going to be a big issue. "Empyre" is just getting started, but the Fantastic Four will play a big role in it, so let's see what role they'll play in the aftermath.
Empyre Fallout: Fantastic Four #1
Written by Dan Slott
Illustrated by Sean Izaakse
Cover by R.B. Silva
Variant covers by Carmen Carnero, Alan Davis, and Alex Ross

• The fate of all future Kree/Skrull Wars is placed in the hands of… Reed Richards and his family, the Fantastic Four.
• This is NO standard issue of a Marvel Comic, True Believer. Two MAJOR TURNING POINTS for THE ENTIRE MARVEL UNIVERSE will take place here!
• Also in this issue… The Profiteer returns, but is she here for revenge… or justice? And a special appearance by the most ominous cosmic character of them all, The Unseen!
8. Not the Sins of the Spider
Traditionally, any time a "Spider-Man" comic mentions "sins" and "Normal Osborn," it's a worrying sign due to its association to a… let's say less than beloved story arc. Fortunately, this does not sound like it relates to that at all. Instead, we get Spider-Man teaming up with plenty of allies (not a full Spider-Verse of them, but enough to be worth our while). Not to mention we're getting more out of Osborn's position as chief administrator of Ravencroft, so let's see if these sins are more entertaining than the ones we don't talk about.
Amazing Spider-Man: Sins of Norman Osborn #1
Written by Nick Spencer
Illustrated by Frederico Vicentini
Cover by Ryan Ottley
Variant cover by Jose Maria Casanovas Rojas

• The Sin-Eater has leveled up thanks to Kindred, and his evil plan is WORKING — New York City is on fire at its own hand, Ravencroft is under siege and Spider-Man seems to be the only one who knows right from wrong anymore.
• He certainly can't look for help from Ravencroft's chief administrator, NORMAN OSBORN, whose past will haunt both himself and Spider-Man!
• So Spidey calls his Amazing friends Miles Morales: Spider-Man, Spider-Woman, Ghost-Spider, Spider-Girl and Madame Web in to help. The Order of the Web is born.
Continued below
---
---
7. Empyre's Been Struck
Switching back to more "Empyre," because there's a lot of tie-in comics for this event as well. We're seeing how things are shaping up on the Fantastic Four's side, now let's look at the Avengers. While the F4 promises changes for the Marvel Universe, "Aftermath Avengers" says it will bring us to the "Space Age," so perhaps we can expect a lot more in the way of cosmic comics to come after this. There's only one way to find out, so let's see what Al Ewing has in store.
Empyre: Aftermath Avengers #1
Written by Al Ewing
Illustrated by Valerio Schiti
Cover by Jim Cheung
Variant covers by Jim Cheung and Greg Land

• The end of EMPYRE begins a new age for the Marvel Universe!
• In the aftermath of the cosmic conflict, the forces gather one last time… but why? And at whose bidding?
• New bonds will be forged, new families will be founded, and there's a new role waiting for Earth… but new destinies bring new dangers – and new enemies!
• Welcome to the new Marvel Space Age, true believer – hope you survive the experience!
6. Stabby Time
I never really thought about how many swords appear in "X-Men" comics until "X of Swords" was announced, but now that I think about it, there are a lot. At least enough to make a special X-Event out of it, at least. We're kicking things off with "X of Swords: Creation," which uses a short solicit to hint at things to come. So we can look forward to the start of a new, exciting X-Men story, filled with plenty of swords.
Because swords are cool.
X of Swords: Creation #1
Written by Jonathan Hickman
Illustrated by Pepe Larraz
Cover by Pepe Larraz and Mark Brooks
Variant covers by Miguel Mercado, Pepe Larraz, and Mark Brooks

X OF SWORDS – CHAPTER 1
A tower. A mission. A gathering of armies.
5. Also Immortal
"Immortal Hulk" has been an amazing comic. It's dark, compelling, filled with horror, and generally well-done on all aspects. Now it's Jen's turn, as She-Hulk gets her "Immortal" comic. She-Hulk has been growing more and more Hulked out recently, so this is a logical step, and one that's bound to make an excellent one-shot.
Immortal She-Hulk #1
Written by Al Ewing
Illustrated by Jon Davis-Hunt
Cover by Joe Bennett
Variant covers by Simone Di Meo, Daniel Warren Johnson, and Alex Ross

IN THE WAKE OF EMPYRE, JEN WALTERS GOES IMMORTAL!
The Cotati invasion has changed everything for Jennifer Walters. Now she seems to have a new lease on life…but things are never that simple for the gamma-powered. Al Ewing gives She-Hulk the "IMMORTAL" treatment with a horrifying stand-alone tale!
4. Back in Iron
It seems like things are always changing for Iron Man, whether he's a virtual copy of himself in a cloned body or Tony Stark classic. Now it's taking a step back, going from digital to mechanical and bringing out the good ol' heroics. I look forward to seeing what Christopher Cantwell has planned for this next run of "Iron Man."
Iron Man #1
Written by Christopher Cantwell
Illustrated by Cafu
Cover by Alex Ross
Variant covers by Mark Brooks, R.B. Silva, Alex Ross, Rick Leonardi, Tenjin, and Dustin Weaver

BIG IRON!
Tony Stark is looking to restart his engine. He decides he's going back to basics, putting away his high-tech toys and high-profile image so he can get his hands dirty again. It's time to dig into the guts of real machines, put on some old-fashioned metal and fly.
But can he really lay that Stark-sized ego down? Life isn't that simple, something that old friends and frustrating foes are quick to point out. If you strip down a billionaire to his bolts, does he run solid or just overheat?
Tony's going to find out once a threat to the entire universe rears its head from the past. As he suits up again, Tony remains sure of one thing: he's still IRON MAN down to his flesh and blood core.
Continued below
---
---
3. Beyond Giant
This may very well be the most artists I've ever seen in a single issue. To call this comic "Giant-Sized" is no exaggeration – even if it's just 37 pages long, switching between one artist a page is quite the undertaking. But it is a celebration issue, paying tribute to a major turning point in "X-Men" history, so there's no doubt these artists will be at the top of their game when they bring this classic story back to life.
Giant-Size X-Men: Tribute to Wein & Cockrum #1
Written by Len Wein
Illustrated by Alex Ross, Kevin Nowlan, Chris Samnee, Marcus To, Siya Oum, Stephen Segovia, Marguerite Sauvage, Carmen Carnero, Bernard Chang, Aaron Kuder, Takeshi Miyazawa, Juann Cabal, Gurihiru, Mark Brooks, Kris Anka, Phil Noto, Valerio Schiti, Leinil Francis Yu, Matteo Lolli, Ema Lupacchino, Carlos Gómez, Iban Coello, R.B. Silva, Ramon Rosanas, Joshua Cassara, David Baldeón, Marcelo Ferreira, Javier Garrón, Rod Reis, Javier Rodríguez, Marco Checchetto, Jen Bartel, Mike Del Mundo, Rahzzah, Pepe Larraz, and Mike Hawthorne
Cover by Adi Granov
Variant covers by Tradd Moore, Ed McGuinness, and Dave Cockrum

CELEBRATING THE CLASSIC'S 45TH ANNIVERSARY!
Forty-five years ago, a comic book came out that would change the face of Marvel Comics forever. Writer Len Wein and artist Dave Cockrum revamped the X-Men completely, replacing the bulk of the teen heroes with a completely new international cast! The legendary one-shot took comic fans by storm and set the series off in a new direction, setting the stage for the legendary X-scribe Chris Claremont to make them the most popular heroes in the Marvel Universe! Now, 37 of Marvel's top artists come together to re-create this epic story, each re-drawing one pulse-pounding page in tribute to this Marvel masterpiece!
2. Even Bigger
Kyle Higgins proved he could bring old Tokusatsu shows to life in a modern comic setting with "Mighty Morphin' Power Rangers," now he's going to do the same with Ultraman. While Power Rangers was an American adaptation of a Super Sentai series, attempts at adapting Ultraman have never seen quite as much success, so this is going to be a somewhat different undertaking. Still, I have no doubt that Kyle Higgins will be able to work the same magic as he did for the "Power Rangers" comic and look forward to seeing what he's got in store.
Also: just look at that cover! Alex Ross' art continues to be absolutely stunning.
The Rise of Ultraman #1
Written by Kyle Higgins and Mat Groom
Illustrated by Francesco Manna and Michael Cho
Cover by Alex Ross
Variant covers by Ed McGuinness, Adi Granov, Olivier Coipel, Yuji Kaida, Skottie Young, and John Tyler Christopher

In darkness there lurks Kaiju – terrifying and unfathomable monsters. Between Kaiju and the rest of us stands the United Science Patrol!
But who are these enigmatic defenders, and how do they perform their miracles? Shin Hayata and Kiki Fuji have spent half a lifetime trying to find out – and their quest is about to drive them toward a decades-old dark secret and put them on a collision course with a mysterious warrior from beyond the stars!
Kyle Higgins (Mighty Morphin Power Rangers), Mat Groom (Self/Made) and Francesco Manna (AVENGERS) reimagine the classic origin of a pop culture icon as THE RISE OF ULTRAMAN begins!
1. Oceans Rise, Empyres Fall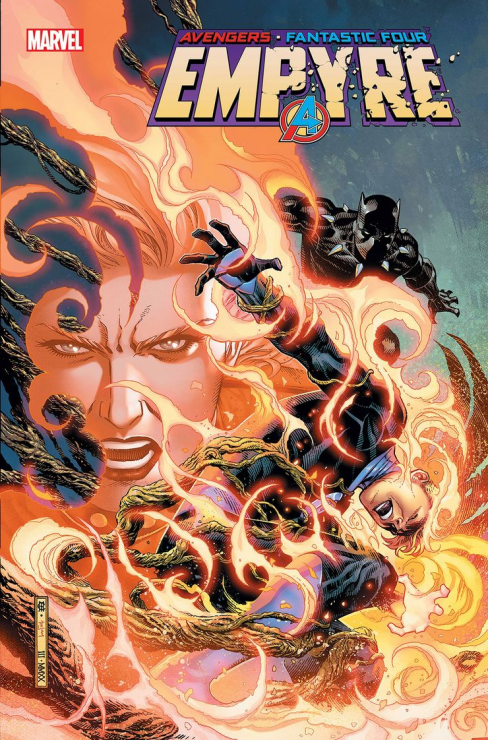 Yes, while I've included the "Aftermath" and "Fallout" comics that tie-in to the end of "Empyre," of course the finale itself has to be included in this list. Not only is the fate of the world at stake, but so is the fate of space. How will this event conclude? What will happen to Hulkling? Of course the world will be saved, but how will this effect the comics to come? I can't wait to find out!
Empyre #6
Written by Al Ewing and Dan Slott
Illustrated by Valerio Schiti
Cover by Jim Cheung
Variant covers by Alexander Lozano, Michael Cho, Mike McKone, Mike Mignola, Tony Daniel, and John Tyler Christopher

Who will rule the EMPYRE?
• There can be only one King of Space—and it's the last liege standing! But as combat rages on, the clock ticks down to catastrophe!
• Will the ultimate interstellar weapon fry planet Earth before or after all sentient life on the planet is wiped out?
• The Avengers and the Fantastic Four are tested as never before—as EMPYRE comes to a pulse-pounding finish!
Continued below
---
---
Check out the full solicitations over at CBR.com.