You've seen Dark Horse, you've seen DC and now it's time to get into Image's March solicits! They're quite a doozy, full of some great stuff to tease and entice you, so lets not have too much opening banter.
You can see the full solicits on Comic Book Resources.
Image Is #1!
In case you missed it, we voted Image as the top Publisher of 2012 in our 2012 in Review article.
Yay Image!
Image Has #1s!
As always, Image has a strew of new #1s being offered come March, covering various genres and titillating your senses wildly. Don't believe me? Watch this:
EAST OF WEST #1 — GEM OF THE MONTH
story JONATHAN HICKMAN
art NICK DRAGOTTA
MARCH 27
40 PAGES / FC / T+
$3.50
"OUT OF THE WASTELAND"
The things that divide us are stronger than the things that unite us. A Sci-Fi Western set in a dystopian America where all hope for the future rests in the Four Horsemen of the Apocalypse…who just happen to be trying to kill the President of the United States.
One of the most exciting new books of the year, this is EAST OF WEST, a brand new, ongoing, monthly comic from the award-winning team of Marvel's FF, JONATHAN HICKMAN and NICK DRAGOTTA.
Jonathan Hickman. Nick Dragotta. Gem of the Month indeed! Seriously, 'nuff said on this front. You know you're pre-ordering it.
FIVE GHOSTS: THE HAUNTING OF FABIAN GRAY #1 (of 5) — GEM OF THE MONTH
story FRANK J. BARBIERE
art / cover CHRIS MOONEYHAM
MARCH 20
40 PAGES / FC / T+
$3.50
A BOLD NEW ERA OF PULP ADVENTURE COMICS BEGINS HERE
After a tragic encounter with an artifact known as "The Dreamstone," infamous treasure hunter Fabian Gray was possessed by five literary ghosts and has been granted access to their unique abilities.
Join writer FRANK J. BARBIERE and artist CHRIS MOONEYHAM for the most exciting debut of 2013 as they introduce you to a unique world full of action, black magic, exotic locales, and literary allusion!
I'm admittedly unfamiliar with the creative team, but I'm all up for new pulp adventure comics. I can't imagine why you wouldn't be too.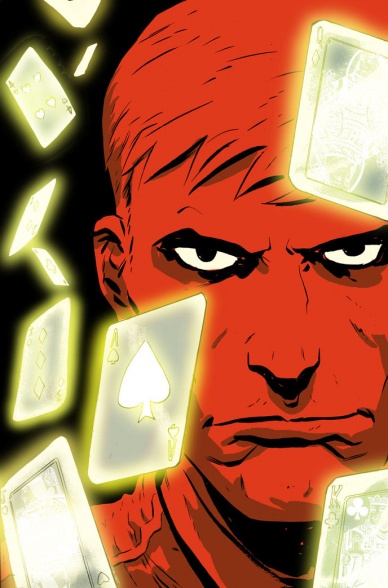 LOST VEGAS #1 (of 4)
story JIM McCANN
art JANET LEE
wrap-around cover A JANET LEE
cover B DAN McDAID
1:10 incentive cover FRANCESCO FRANCAVILLA
MARCH 6
32 PAGES / FC / T+
$3.50
The EISNER AWARD-WINNING team of Jim McCann & Janet Lee reunite to create a universe filled with intrigue as one gambler-turned-slave has 24 hours to go all in and pull off the greatest heist the universe has seen.
WELCOME TO LOST VEGAS!
Aboard this luxurious casino-filled traveling space-station you will find the highest stakes games from every corner of every planet, unheard-of winnings, and the greatest attractions anywhere!*
*the fine print- those who bet it all and lose must work it off as indentured servants to the casino. Escape is not possible. No one is exempt from these rules.
Jim McCann and Janet Lee back together, and now for something completely different! While it's only a mini, this is a do-no-wrong team in my book.
SEX #1 (MR)
STORY: JOE CASEY
ART / COVER: PIOTR KOWALSKI
MARCH 6
32 PAGES / FC / M
$2.99
FIRST ISSUE — COLLECTOR'S ITEM! Finally, a good reason for you come in the comicbook store – to buy SEX! Simon Cooke has retired from his own "alternative lifestyle" and returned to the city he'd previously sworn to protect. Now he's just another average citizen – or is he? The term "adult" has never been so appropriate as it is when it applies to SEX.
You had me at "sex."  But, seriously, I'll be every collector's item issue of the series.
So, three months in, and Image i already coming out of the gate guns-blazing in a fearless fashion, to an extent that no other publisher is doing. These four books alone are so diverse in genre and style, if not even one of them appeals to you in some way than you may want to see a doctor. People keep speaking of New Issue Fatigue, but as far as I'm concerned Image can publish as many new issues as they want. They're all so damn exciting.
Continued below
---
---
Extra Dead
Image will be reprinting "The Walking Dead" #27 in March as part of a Governor Special, similar to what they did for Michonne when Season 3 began. It'll contain the first appearance of the Governor, as well as the story originally printed in CBLDF 2012 that tells the Governor's secret origin.
You could get it… or wait until two months when this, Michonne's origin and a new Tyreese story will be reprinted in a FCBD comic. Both seem like solid options.
Trigger Girl 6 Gets An Extra Life
While "Creator Owned Heroes" is now dead, that doesn't mean you can't see what you missed by picking up this one-hot collecting all the "Triggergirl 6" shorts illustrated by Phil Noto.
Honestly, how are you not sold by "illustrated by Phil Noto?"
Get Your Science On
Do you want to look this good?:
Then the first step to that is picking up the t-shirt she wears, for release in March in both Men and Women's sizes, as well as Red or Black:
Fashion results may vary.
Chew Isn't As Dark As We Think It Is
With issue #30, John Layman and Rob Guillory flipped a switch and turned out all the lights in the "Chew" room, sucking the hope out of room like air from a vacuum. They tease that it only gets worse in #31.
But all is not lost, because as you can see from the cover to #33 (riffing on the cover to #18),  March will bring the funny back as "Tony takes on a load of seamen."
Hooray for double entendre!
Comeback Wraps-Up, and Michael Walsh Kills The Cover
"Comeback" is one of our favorite new minis from Image, and the final issue of the series comes out in March. I can only hope you've gone out to the store to pick up the fantastic first two issues (second in stores today!), but if you're still not convinced maybe Mike Walsh's stylized and snazzy cover will help entice you? Yes? Good.
Danger Club Reboots
The best teen-based superhero comic around (seriously – forget your "Avenger Arenas" and your "Teen Titans", get "Danger Club"), the March solicit includes an interesting line:
All of reality has been rebooted! A new universe, and new Danger Club, once again stand at the brink of destruction. Is this a bold new direction for the critically acclaimed teenage heroes? Or is this the beginning of the end?
Given the nature of the book, which has its roots in the obvious sources, the playful and poignant wink/nudge of the concept certainly instills excitement in what the boys have planned for the series in March. Lets just hope we can say goodbye to those pesky delays.
The End of Glory
We'd bee told it was coming, but it still stings to see -"Glory" #31 ends the fantastic reboot of the series helmed by Joe Keatinge and Ross Campbell. The solicit is quite simple:
"THE END"
100 Years Later. Goodbye.
Such a shame that this book didn't get to carry on for one hundred issues. Keatinge has been adamant online in saying that they've told the story they wanted to tell, and yet you can't help but wonder what else could've happened. Campbell and Keatinge worked incredibly well together, and "Glory" remains beloved on this site. If Campbell and Keatinge decided to work together again, we'd certainly be first in line.
But in the mean time…
We Still Have Hell Yeah
So, you know, small favors and all that. And March's #8 kicks off a new storyline with a solicit that reads,
ALL-NEW STORYLINE! ALL-NEW DYING!
Everything has gone horribly, horribly wrong.
Get your jumping-on pants ready.
Invincible #101 Kind of Spoils a Thing
"Invincible" #98-100 is an arc entitled 'The Death of Everyone.' #101 shows that that's not exactly the case.
Click here if you'd like to see who makes it out on the other side. I would definitely call it at least a semi-spoiler, though, especially if you expect everyone to die.
Continued below
---
---
Holy Shit, That Tradd Moore Guy
Look at this cover for "Legend of Luther Strode" #4, featuring a certain infamous British madman who has appeared in the series before and has ties to the cult that put this series in motion. I won't blatantly say who it is, although if you go find the solicit you'll certainly find out.
Holy shit, that Tradd Moore guy!
The Reveal of Hoodie
March promises that "Mind The Gap's" tenth issue will reveal who is the mysterious man in the hoodie that pushed Elle into the subway. Now is the time to start placing your final bets on who s/he is.
As a side note — hey, don't we do a column about this series? My bad. I'll get that fixed as soon as the holidays clear away.
Ezekial Has A Tiger
That is, word for word, the solicit to "Walking Dead" #108. Your guess is as good as mine as to what it means.
And a Whole Lot More
As always, there are plenty of great things that are going on with Image's solicits that we don't get to while trying to spotlight a few. That's sort of what happens when you try and not basically write about every single solicit. But with new issues of books like "Saga," "Prophet" and "Revival", the "Savage Skullkickers" relaunch, a ton of great minis like "Mara" and "the End Times of Bram and Ben" and more that we haven't even really gotten to experience yet ("Todd the Ugliest Kid on Earth" and "Snapshot," for example), 2013 is already looking fantastic for Image.
Although…
Still No Morning Glories #26
There's a solicit for the fourth trade, and after the season finale with #25 we knew that Nick and Joe and the team would be taking a break… but how long a break?
What do you think they're planning for the season two return? Hmm.