Hello and welcome to Multiversity's look at the "Best of the Rest" of what's coming your way in the now-available May 2015 Previews catalog. Having already taken a look at what Marvel, Dark Horse, DC, and Image have lined up for us, it's now time to check out the other 75% of the catalog. Before we jump into the things you should keep an eye out for, a quick reminder:
And second, as one-half of the Robots From Tomorrow podcast, I go through the whole Previews catalog each and every month with co-host Mike Romeo, talking about things that catch our eye and quicken our pulse. If you listen to those episodes, you should still read this column because there will not be a 100% overlap, and if you don't listen to those episodes, they are a great way to hear Mike & I go into further detail about some of the things I've spotlighted here.
That said, let's dive in!
10. Heavy Metal Mechanism
We've already talked about Heavy Metal's line of comics kicking off with Tim Seeley & Michael Moreci's "Hoax Hunters", but the rollout continues with this series from the creator of Image Comics' "Epic Kill". Thankfully, Raffaele was gracious enough to save me a heap of writing trying to explain why I'm excited for this series and sent us an EXCLUSIVE page of interior art. So I'll be back to yap about the next pick after you're done enjoying this page!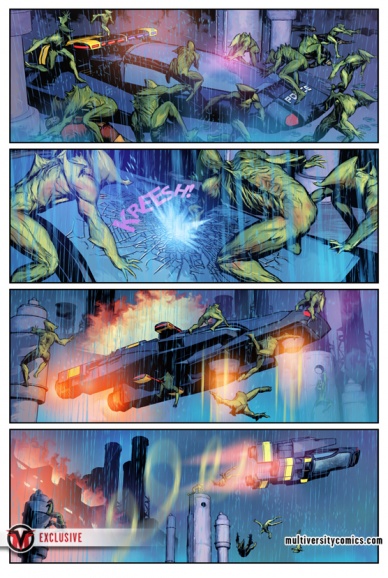 Mechanism
Written by Raffaele Ienco
Illustrated by Raffaele Ienco
Published by Heavy Metal Comics

Raffaele Ienco's Mechanism asks, "Is humanity worth saving?" When a prototype military robot is sent to the frontline of an alien invasion, its artificial mind must evolve in the company of a group of human survivors. As the machine learns what it means to be human, will it decide that we are a race worth saving, or find itself on the other side of the combat lines? This all-new ongoing series will keep readers guessing in a saga that is one part Iron Giant and one part a scifi survival story in the vein of The Walking Dead!
9. More Eisner Than You Can Shake A Stick At!
This isn't the first Eisner-related entry in this month's list, and these items have actually been solicited earlier this year, but they haven't been combined like this until now and it's worth bending the rules a little to shine some light on this because it's such a great deal.
Eisner's life and career in comics spanned almost all of what one would consider recorded history of the American comics market. From its infancy in the 1930's to his passing in 2005, if it happened in mainstream comics, Eisner either did it or talked with those who did. "A Spirited Life" being available in a revised edition is wonderful enough (it's a Twomorrows history book; what more do you need to know), but being coupled with the excellent Eisner doc gives you the opportunity to hear Eisner talk about his experiences in his own voice, humanizing him and his life even more.
And if THAT wasn't enough, the documentary DVD includes all the audio interviews Eisner recorded for his 'Shop Talk' book. Imagine finding out Will Eisner had frank podcast discussions with Jack Kirby, Harvey Kurtzman, Milton Caniff, Neal Adams, Joe Kubert, Gil Kane, Jack Davis, and more. And like these weren't puff pieces; they were pros talking shop (and some smack here and there) and as a look back into the mindset of an earlier generation and a different perspective, they are fascinating. They alone make getting this worthwhile, so do yourself a favor and make this happen.
A Spirited Life & Will Eisner: Portrait of a Sequential Artist
Written by Bob Andelman and Jon & Andrew Cooke
Illustrated by Will Eisner
Published by Twomorrows Publishing

Includes Bob Andelman's acclaimed Will Eisner: A Spirited Life Deluxe Edition (expanded, full-color version of the out-of-print biography that explores the more than 70-year career of Will Eisner, heavily illustrated), and the DVD documentary Will Eisner: Portrait of a Sequential Artist (96 minutes of Will himself documenting his life and his cinematic approach to comics). From his childhood and famously turning down a proposal for Superman, to educating Army soldiers in P.S. Magazine, creating the Spirit, and producing the first widely accepted graphic novel, this Combo Pak presents Will's own words, plus his contemporaries from comics, including Alan Moore, Dave Gibbons, Neil Gaiman, Denis Kitchen, Joe Kubert, Stan Lee, Jules Feiffer, Neal Adams, Patrick McDonnell, and others. Include a FREE Digital Edition of the book!
Continued below
---
---
8. Imagine Donald Duck With The Infinity Gauntlet
DISCLAIMER: Donald Duck does not have the Infinity Gauntlet in this issue.
But with a Jonathan Gray cover promising sweeping adventure like that, and knowing Disney owns Marvel, it doesn't seem completely outside the realm of possibility, does it?
That cover tells me Disney is putting their characters to work, in actual stories. It's sometimes easy to forget when you see them shambling around amusement parks or plastered on merchandise from here to Uncle Scrooge's money vault in Duckberg that there is a body of actual stories featuring these characters. Carl Barks and Don Rosa handling the Ducks, plus Floyd Gottfriedson's Mickey Mouse; they didn't establish a continuity like their Mouse-mate Marvel did with their characters, but there are definitely tools there to tell more stories with these characters. And while it's been up to European creators to do a lot of the heavy lifting on that front for a long time, those stories (like "The Search for the Zodiac Stone") are now being brought over here to be enjoyed by a fresh audience.
Walt Disney Comics #721
Written by Daan Jippes & Various
Illustrated by Massimo De & Variou
Published by IDW Publishing

"The Search For the Zodiac Stone," Part 1 of 12: In the start of a legendary Disney epic, Mickey and Goofy seek a mystic treasure that will soon ensnare Donald, Scrooge, and the Phantom Blot! Wild short stories with Donald, Gremlin Gus and more round out our first big issue!
7. About Shucking Time!
And that, dear readers, fulfills my low-hanging-joke-fruit quota for this month's column. But it's for a good cause, because Ben Towle's "Oyster War" webcomic is coming out in an oversized hardcover!
Oyster War
Written by Ben Towle
Illustrated by Ben Towle
Published by Oni

In the coastal town of Blood's Haven, the economy runs on oysters. Oyster farming is one of the most lucrative professions, but also the most dangerous. Not just from the unforgiving ocean and its watery depths-there are also oyster pirates to worry about! Commander Davidson Bulloch and his motley crew are tasked with capturing these ne'er-do-wells-but they don't know that Treacher Fink, the pirates' leader, possesses a magical artifact that can call forth a legendary spirit with the power to control the sea and everything in it!
6. "They're Comic Books! It Ain't Like They're Proust Or Anything!"
Au contraire…
Comics are hot right now. Blazingly hot. So hot that even being over 144 years old and deceased hasn't stopped literary giant Marcel Proust from getting in on the action. Or, more accurately, it has but hasn't stopped Stephane Heuet and translator Arthur Goldhammer from adapting the first volume of Proust's seven-volume novel of the same name into comic form.
(And if the title doesn't quite ring a bell, the work was originally translated as "Remembrance of Things Past" up until the early 1990's, which I'm guessing influenced the naming of the 1967 Moody Blues album "Days of Future Passed", which was borrowed by Claremont & Byrne with a little twist for an X-Men storyline that has surely fallen into obscurity by now more than 30 years after it was published. See? It all ties back to comics!)
According to my research, Heuet has been working on this adaptation for the last few decades in French-language editions. There have been some English translations available through NBM, but this new edition from WW Norton & Company (through the Liveright imprint) looks like a consolidation of earlier volumes with possibly new translation work done. While this book, like any adaptation, shouldn't be seen as replacing the source material, I'm looking forward to using this in the manner described by the publisher below: as an introduction to one of the greatest literary works of the 20th century.
In Search Of Lost Time: Swann's Way
Written by Marcel Proust
Adapted & Illustrated by Stephane Heuet (with translation by Arthur Goldhammer)
Published by LiveRight

Whether you are looking to brush up or sample for the first time, this graphic adaptation of In Search of Lost Time is the perfect introduction to Proust's masterpiece.

"Proust was the greatest novelist of the twentieth century, just as Tolstoy was in the nineteenth," wrote Graham Greene. "For those who began to write at the end of the twenties or the beginning of the thirties, there were two great inescapable influences: Proust and Freud, who are mutually complementary." With its sweeping digressions into the past and reflections on the nature of memory, Proust's oceanic novel In Search of Lost Time looms over twentieth-century literature as one of the greatest, yet most endlessly challenging literary experiences. Influencing writers like Virginia Woolf and James Joyce, and even anticipating Albert Einstein in its philosophical explorations of space and time, In Search of Lost Time is a monumental achievement and a virtual rite of passage for any serious lover of literature.

Now, in what renowned translator Arthur Goldhammer says might be "likened to a piano reduction of an orchestral score," the French illustrator Stéphane Heuet re-presents Proust in graphic form for anyone who has always dreamed of reading him but was put off by the sheer magnitude of the undertaking. This graphic adaptation reveals the fundamental architecture of Proust's work while displaying a remarkable fidelity to his language as well as the novel's themes of time, art, and the elusiveness of memory. As Goldhammer writes in his introduction, the compression required by this kind of adaptation As Goldhammer writes in his introduction, "the reader new to Proust must attend closely, even in this compressed rendering, to the novel's circling rhythms and abrupt cross-cuts between different places and times. But this necessary attentiveness is abetted and facilitated by the compactness of the graphic format."

In this first volume, Swann's Way, the narrator Marcel, an aspiring writer, recalls his childhood when—in a now immortal moment in literature—the taste of a madeleine cake dipped in tea unleashes a torrent of memories about his family's country home in the town of Combray. Here, Heuet and Goldhammer use Proust's own famously rich and labyrinthine sentences and discerning observations to render Combray like never before. From the water lillies of the Vivonne to the steeple and stained glass of the town church, Proust's language provides the blueprint for Heuet's illustrations. Heuet and Goldhammer also capture Proust's humor, wit, and sometimes scathing portrayals of Combray's many memorable inhabitants, like the lovelorn Charles Swann and the object of his affection and torment, Odette de Crécy; Swann's daughter Gilberte; local aristocrat the Duchesse de Guermantes; the narrator's uncle Adolphe; and the hypochondriac Aunt Léonie.

Including a Proust family tree, a glossary of terms, and a map of Paris, this graphic adaptation is a surprising and useful companion piece to Proust's masterpiece for both the initiated and those seeking an introduction.
Continued below
---
---
5. Go, Go, Godzilla! (To Hell!)
The cover has 'Godzilla' and 'Stokoe' on it. You need to buy it.
(Editor whispers in my ear…)
You need to buy a lot of it.
(Editor speaks a little louder, and you hear mention of firing…)
I would be remiss if I didn't use this opportunity to speak further about this title.
(Editor smiles and nods.)
This is a five-issue miniseries, which each issue handled by a different creative team. So while Stokoe, who proved his Godzilla chops on "The Half-Century War", is only doing the first issue, it was planned that way. And I have faith that IDW has a monster roster of creative talent to follow in Stokoe's huge footsteps. So buy with confidence!
Godzilla in Hell #1
Written by James Stokoe
Illustrated by James Stokoe
Published by IDW Publishing

Godzilla meets his greatest adversary of all time-the impossible tortures of Hell! Each issue of this special miniseries will see Godzilla enter a new level of the underworld to do battle with the impossible.
4. So Wrong They've Swung Around To Being Right
Reason #1 that Tumblr is awesome: I find out about stuff I would NEVER have seen otherwise. Case in point is Joan Cornellà's Mox Nox. Scrolling through my Tumblr feed on the iPad one day, one of her strips slid into my field of view and grabbed my eyes like a lady grabbing a handrail to avoid being sucked out into space from an open airlock. It was the type of grab that stops you in your tracks (or swipes, in this case). In the same vein as repurposing innocuous content from mid-20th century American pop culture and subverting it, Cornellà has the added benefit of being able to replicate the tone and feel that content evokes but, since she's creating it all herself, she can take the cognitive dissonance much farther and to much greater effect. "Mox Nox" is hilarious and disturbing and an absolute necessity to getting through the day in the 21st century world we find ourselves in.
Mox Nox
Written by Joan Cornellà
Illustrated by Joan Cornellà
Published by Fantagraphics Books

Joan Cornellà's Mox Nox comic strips have garnered over one million fan followers on Facebook. Each single page strip is a full-color, hand-painted marvel of the comic strip form, populated by smiling psychopaths who turn even the most mundane situations into side-splittling and cringe-inducing farces. Cornellà's humor mixes absurdist comedy with transgressive, political incorrectness. This is Cornellà's long-awaited first book to be published in the U.S.
3. Grenades and Dragons and Twins; Oh My!
One of the benefits of doing this column (and Previews-watching) in general is not only discovering new-to-me talent, but also seeing them pop up again and again in real-time. I mentioned Asaf Hanuka's "The Realist" OGN back in February's column as coming completely out of the blue for me. This month I spotted that cover on my Preview flipthrough, stopped to stare for a second, was intrigued by seeing his name, decided to read the solicit copy, and now want this book. REALLY want this book.
Also, while I think swearing in solicit copy is something that should be done sparingly, it works in this case. If 'goddamn' is even considering swearing anymore. I don't know. But its use here hits as a perfect punctuation to the build-up of unreal elements in this otherwise grounded story, and helps give us a hint at Mark's personality, since I'm sure he's going to be the one describing the dragon in that matter.
The Divine
Written by Boaz Lavie
Illustrated by Asaf Hanuka and Tomer Hanuka
Published by First Second

Mark's out of the military, these days, with his boring, safe civilian job doing explosives consulting. But you never really get away from war. So it feels inevitable when his old army buddy Jason comes calling, with a lucrative military contract for a mining job in an obscure South-East Asian country called Quanlom. They'll have to operate under the radar — Quanlom is being torn apart by civil war, and the US military isn't strictly supposed to be there. With no career prospects and a baby on the way, Mark finds himself making the worst mistake of his life and signing on with Jason. What awaits him in Quanlom is going to change everything.

What awaits him in Quanlom is weirdness of the highest order: a civil war led by ten-year-old twins wielding something that looks a lot like magic, leading an army of warriors who look a lot like gods, and an actual goddamn dragon.

From world-renowned artists Asaf and Tomer Hanuka (twins, whose magic powers are strictly confined to pen and paper) and Boaz Lavie, The Divine is a fast-paced, brutal, and breathlessly beautiful portrait of a world where ancient powers vie with modern warfare and nobody escapes unscathed.
Continued below
---
---
2. That's The Spirit!
The Spirit seems to inspire every creator chronicling his adventures. From Eisner himself, to Darwyn Cooke, to the long list of pros who handled him in "The New Adventures of the Spirit" or "The Spirit Jam" or in DC's recent revival, or even future "Iron Giant" director Brad Bird: teaming up with Denny Colt just brings out the A-game in people.
Now it's Dyanmite's turn, and they picked Matt Wagner to spearhead this incarnation. Wagner at the helm makes sense; he's already handled several pulp heroes for the publisher in such a way as to remain true to their roots but accessible to modern audiences at the same time. Add the art team of newcomer Dan Schkade & Brennan Wagner plus covers by Eric Powell and the usual suspects of Dynamite favorites (Ross, Cassaday, Wagner himself, and I would be shocked if Francesco Francavilla didn't show up at some point) and you've got another winning book.
Will Eisner's The Spirit #1
Written by Matt Wagner
Illustrated by Dan Schkade
Published by Dynamite Entertainment

In celebration of the 75th anniversary of Will Eisner's iconic and ground-breaking character, Dynamite Entertainment is proud to present an all-new ongoing series featuring THE SPIRIT. Scripted by Eisner Award-winning author, Matt Wagner, this monthly title will delight longtime fans as well as help introduce a whole new generation of fans to the character. Set in the classic period of The Spirit's golden age, the 1940s, the first 12-issue story arc follows the strip's most beloved characters, Commissioner Dolan, his daughter Ellen, Ebony White and Sammy as they attempt to un(CA) why The Spirit has been missing, and presumed dead, for the past two years. Has the famous blue-masked hero finally fallen victim to one of the malicious felons or beautiful femme fatales from his lengthy rogues' gallery of enemies? In the words of Central City's most prominent headlines: "WHO KILLED THE SPIRIT?" Illustrated by Dan Schkade and colored by Brennan Wagner, this series will strive to honor the vital and prestigious legacy of one of comicdom's most talented and influential creators – Will Eisner.
1. Towering Over Inferior Comics
If you read "Six-Gun Gorilla", this creative team's previous collaboration, then you know what kind of rules apply to the comics they put out (aka none). If you haven't read "Six-Gun Gorilla", go do that right now so you can see what I'm talking about. So when you tell me that those guys are doing a new comic, and that it would appeal to fans of "East of West" and "The Dark Crystal", I know you're talking about a book ready to blow the doors off the house containing any preconceived notions of what this book can or can't be.
The Spire #1
Written by Simon Spurrier
Illustrated by Jeff Stokely
Published by Boom! Studios

The Spire is a mountain of metal and stone that rises out of the middle of the desert, containing a vast city of twisting tunnels, grinding elevators, and ancient machinery, and home to over a million human and non-human residents. Shå, the last of the Medusi, is responsible for keeping watch over them as Commander of the City Watch, despite the fact she isn't shown any respect due to her race. When a string of grisly murders is committed just as a new Baroness of the Spire is about to be sworn in, Shå will have to find the serial killer and bring them to justice. But the new Baroness has a deep hatred of non-humans, and Shå will have more than one enemy at her back.
Well, that was fun! Be sure to check out this month's Robots From Tomorrow Previews episode, and hear us talk about these books and a whole lot more. And let me know what books YOU'RE excited for in the comments section.