Fans of Kate Beaton's work will be more than familiar with the smart and succinct storytelling that makes her comics so successful. She often doesn't need more than three or four panels to make one of her strips work. Establish a scenario, set up the punchline, and knock it down. Beaton makes it seem so easy, but just as the best cartooning can often read as 'simple,' the same can be said for humor. So what happens when a cartoonist who's best known for short humor strips decides to set their focus on a children's picture book? Well, if that cartoonist is Beaton, then you'll find yourself with the wonderfully crafted "The Princess and the Pony," her first work of this kind.
Introducing Kate Beaton, a major new picture book talent, and author/illustrator of #1 New York Times bestseller Hark! A Vagrant!

Princess Pinecone knows exactly what she wants for her birthday this year. A BIG horse. A STRONG horse. A horse fit for a WARRIOR PRINCESS! But when the day arrives, she doesn't quite get the horse of her dreams…

From the artist behind the comic phenomenon Hark! A Vagrant, The Princess and the Pony a laugh-out-loud story of brave warriors, big surprises, and falling in love with one unforgettable little pony.
The idea of of a comics artist shifting into the role of picture book illustrator is an interesting one. In some ways, it's sort of like creating a giant comic strip, with each page acting as a panel and the entire book as the strip. But that's a weird oversimplification, isn't it? Have a look at any comic strip, or page from a comic book, and whether you like it or not, the first thing you'll do is take in the entire thing. Maybe you don't even really realize it, but you'll do a quick scan of the page to get your bearings and maybe settle in for a second on the strongest element you see. This isn't unique to comics, but the way the medium utilizes it is. Artist rely on this automatic behavior to guide you through the reading, letting instinct carry you through the narrative and get you to turn that page.
So that's comics, but how does it apply to picture books and what Beaton is doing in "The Princess and the Pony?" Well, a lot of the same principles of direction apply, but the execution has to be completely different. There's no grid to hang this story on, no sequence in which to 'read' the page. Instead, readers take in large, colorful single images punctuated by what are essentially captions. So now it is up to the artist use these pages to control the speed of the reading experience. Her use of spare pages to make small statements and introductions stand in juxtaposition with busier spreads that are intended to make the reader linger and explore. When a character is placed on a white background, your eye only has one place to go. But when a page turn reveals a warrior battle with dozens of figures, dodgeballs and spitballs, then there is less certainty of where to go, inviting the reader to fall deeper into the world the artist has created.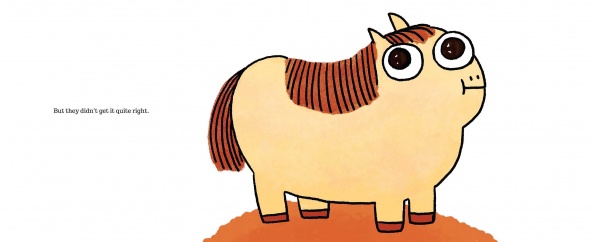 In this new (to her) format, Beaton has found a way to deliver the snap and wit of her comics work into the world of picture books. Each of the book's 40 full color pages are rich with adorable characters and big ideas that'll be easy to grasp for younger readers, as well as subtle humor and sight gags that are aimed at the older people in the audience. Like Looney Toons or, more contemporaneously, Adventure Time, "The Princess and the Pony" is a work that can please just about anyone in the audience.
There's something here beyond just the basic appeal, though. Scholastic's website has "The Princess and the Pony" listed as having an interest level of 'grades preK – 3.' Now I'll be blunt, that's an incredibly easy demographic to talk down to. The market is flooded with safe and sterile works that are intended to make parents feel as if they've made a good decision and are keeping their children safe from any sort of bad influences. This is where Beaton's approach differs. There's nothing sinister or subversive in this book, and everyone is adorable and nice to one another, but the tone feels like something that lifts kids up to its level, and not something that squats down to theirs. And while there are characters and pages here that are just too ding dang cute for words, they're all warriors who want to play with swords. There's a palpable jubilance and unwavering reverence for all things rough and tumble.
Continued below
---
---
Speaking of jubilance, this book reads like it was a joy for Beaton to put together. From the character and prop designs, to the environments and scenarios, "The Princess and the Pony" is a wide-eyed adventure where non-sensical sight-gags and events help to tell a cohesive tale of adventure. Beaton's art sings on every page, and this may be the best work I've seen from her yet. It retains the sense of immediacy found in her earlier "Hark! A Vagrant" strips, but with a new level of nuance and finish. The artist's love for her craft and subject matter are on full display here, particularly in the two-page spreads that show readers what fantastic things warriors tend to get for their birthdays, as well as what a battle actually looks like.
From the minimal to the intricate, I loved every page of this book. And I'm, like, three decades removed for the target audience! This is a book that kids, parents, and all readers in-between can enjoy. It's a testament to what 'all-ages' entertainment can really be.
Check back a little later today, because we're giving away a copy of "The Princess and the Pony" as part of a prize pack to celebrate the book's release!