Comics do take up space in your home, and as someone with just two longboxes and a move in the near future, I'm quite careful about what physical media I purchase – – because "you buy it, you pack it!" Even before the prospect of packing up all my wordly goods was on the horizon, I was an avid consumer of digital comics – – less storage space, ability to zoom in on a tablet to experience detail, and a larger world of media (not just what's at the local shop) to consume.
In the past few years, Europe Comics has seized on the digital age, using it as an opportunity to introduce Americans to the world of bande dessinées and comics from across the continent. This November, they will launch their app for the Nintendo Switch, Izneo (you can view a preview video here). I had the chance at NYCC to talk with Luc Bourcier, CEO of Izneo, who has worked closely with Europe Comics to build the app and integrate their content within it – – along with manga, webtoons, and larger publishers like Titan and Dark Horse as well.
Digital comics readers are pretty commonplace these days. Everybody knows ComiXology, and a lot of the big publishers have their own apps, like Marvel and DC. What makes Izneo different from these other readers on the market, is it content, is it the fact that it's on the Switch, or something else?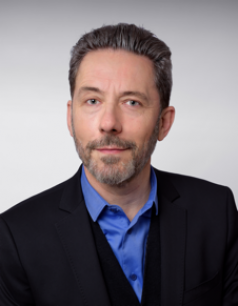 Luc Bourcier: There's two things basically. Number one is that I think in terms of content, we are bringing a lot of European content, as you said, but we also have a lot of American publishers currently on Izneo and a lot of more coming on later. We also have the mangas from the Japanese publishers, as well as some webtoons.  think we have a variety of genre, format, of origins, so that's number one. Number two, other application just don't go through apps like Nintendo for instance or even if you think of others, you will see that on the app store on Google Play you can't buy in app. With Izneo you can buy in app. That's also very, I think, enticing and interesting for the user.
In ComiXology, at least on iOS you can't buy in app. If I am browsing Comixology and I see a comic I like, I have to run to my computer and bring up the website and purchase through there.
LB: Right.
That's a big plus is that you really you can purchase on the go, and you can read on the go. Why launch on the Nintendo Switch?
LB: One [reason] is the format of the device itself. It's a very nice device where you can actually read the comics and also we have designed our own reading tool which is called EZ Comics which allows for reading panel by panel, which is quite ideal for the Nintendo Switch device. Also for us it's a way to get into the American market. Nobody knows us here yet. We need to truly get it to this market place as everyone knows, the App Store, and the Google Play app stores are very crowded, it's very difficult to emerge. Coming to this market place with a less crowded app store makes us more visible I guess, and that's the second reason.
That makes a lot of sense. With your partnership with Europe Comics, you're bringing bande dessinées to the American market. Are there English translations of these comics in the app?
LB: I think Europe Comics is approximately 300 comic books and I'm talking about paper back. We don't do floppies and single issues. It's just, we are talking about paper backs, we have similar of these approximately 300 of them from Europe Comics which means that these are European artists and series and such, in English. All in English.
That's great, 'cause my French is really rusty. Now, is Izneo available on other platforms in other countries or is this just a US based app?
LB: No, no, it's worldwide actually. But it's going to be Europe and the USA mainly. It's worldwide.
Continued below
---
---
One of the other trends people have got excited about with the ability to use an Amazon Fire stick or a Chromecast, and wirelessly read your comics on the big screen. Is that something you're thinking about, especially as you develop your app for the Switch?

LB: Absolutely, right. With the Nintendo you can already do that actually. You can not only read on the Switch device as such but also you can read on your TV screen. Also we have the Android TV application, which means if you have an Android device, or books, you can access all these new content and read on your TV screen.
That's awesome.
LB: Actually, we've discovered it's a nice experience, it's something different. It really adds a lot of appeal.
Yeah, I've wanted to try that because especially if you are reading panel to panel, you can really zoom in on some of that detail.
LB: Absolutely right.
Europe Comics also offers a subscription model for readers – – could you tell us a little bit more about that? 
LB: Yeah, we have two ways to buy our content, actually. One is going to a single purchase in the usual way. But also we have a subscription scheme, which is already operating in Europe, in French, actually. We are going to do that in Asia as soon as the Nintendo Switch application is available. And in this scheme, you can access 1,500 English-speaking books unlimited for $7.99 a month. The idea is that you discover through the subscription, and you can of course buy also the latest releases versus on single-purchase.
So, very similar to, say, ComiXology Unlimited.
LB: Yeah.
Anything else you want our readers to know about Izneo and urope Comics?

LB:  Yeah, that's true. Currently we have a catalog of 25,000 albums in total. Actually it's something we are currently increasing a lot because we really want to become more international. I believe that the comic book market is getting global, which is new because we are starting from an industry which used to be local. As many are there entertainment businesses, it's getting global now.
Thank you so much. This is wonderful and I look forward to trying out more Europe Comics and I hope all our readers will too.
LB: Thank you!
Izneo is available now for iOS and Android devices, with the Nintendo Switch app coming in November.  You can also sign up for an account and view all purchasing options at www.izneo.com.