It's that time of year! The Multiversity Year in Review is here, and from now until Thursday, December 22, we will be talking about favorites in a variety of categories. Let us know what we missed in the comments!
Best Writer
While this medium is, no doubt, a visual one, for whatever reason it is often the writer who gets the lion's share of the accolades. That takes nothing away from these ten writers, all of whom are doing unquestionably great work.
10. John Allison
(Matthew Garcia) Of course, John Allison is probably best known for his work on "Giant Days." And rightfully so, because the print version of that book has been running for over two years now and has only gotten better with each successive issue. In fact, "Giant Days" may be one of the few titles that successfully transitioned from miniseries to ongoing with barely a hiccup, but that's besides the point. Allison has been doing work on the web since at least the mid-'90s and he has grown into an exceptional craftsman and storyteller. His primary project, "Bad Machinery," is, on the surface, a mystery/sleuth adventure, although it rapidly evolved into an exploration of friendship and trust. "Giant Days" is a school comedy, and its frank awareness of the fear of the wider world, of shifting relationships, and figuring out who you are and who you want to be has made it relatable and real. (It's also a remarkable feat of form, with each issue telling a self-contained story while also keeping track of a larger narrative.)
Allison's scripts are funny, his characters empathetic and well-rounded. He's managed to create a shared universe for himself, but he never lets it get out of hand, never allows his stories to be understood only if you've explored the entire history of his characters. Whether he's writing for himself or for another artist, Allison consistently demonstrates remarkable skill at allowing the story to unfold. His characters have distinct personalities and he finds his humor and pathos from their situations.
More than all that, his work is constantly good. His voice is strong. His work bears his unique mark. It's an approach that could only come from working at his craft for so long.
9. Steve Orlando
(Vince Ostrowski)
Steve Orlando loves comics. I mean, he really loves comics. Follow him on Twitter to see him pour over classic comic book panels or pages he loved; pumping up creators whose work he's excited about; and getting more endearingly excited about his own work than I've ever seen a creator get. This love — this palpable excitement — makes its way into every comic he writes.
"Midnighter" (and by extension "Midnighter and Apollo") was a series that came out of the DCYou initiative as the real lasting creative hero. "Batgirl" may have gotten the ball rolling, but "Midnighter" was proof that superhero fans are not afraid of bigger, better, more, and different when it comes to cape comic fare. Orlando took a character from a Wildstorm line that was floundering in the New 52 and Rebirthed him before DC Rebirth was even a thing. Most other writers wrote Midnighter as a dollar store Batman, confining him to the street level or losing sight of him among a team of Wildstorm characters that just didn't thrive amongst the DC regulars, for whatever reason. He took this character and he highlighted the high-minded sci-fi aspects of his character, made him the best there is at what he does (he calculates how he's going to kill everyone in the room within milliseconds of entering), and put his sexuality at the forefront. And to top it all off, paired him with Dick Grayson toprove that he absolutely has a place among the DC elite. That once seemed unthinkable.
But for Orlando, nothing is off the table — and no challenge is too great. Hell, he grabbed the Bat books for a few issues right in the middle of Rebirth and co-wrote the best crossover story DC has had in years in 'Night of the Monster Men.' It really feels like, if he's not already, he's the next big thing in comics. He's DC's best writer already and very soon, he might be the best writer in comics.
Continued below
---
---
8. Gerard Way
(Zach Wilkerson) Gerard Way has only shipped five issues of comics in 2016, two of which bear a co-writer. And yet, those five issues are among the finest books published all year. Both "Doom Patrol" and "Cave Carson has a Cybernetic Eye" represent the best of what comic books have to offer. In "Doom Patrol," Way channels the metatextual deconstruction of Morrison and pairs it with a brighter, more whimsical tone. His origin for new protagonist Casey Brinke in issue #3 ranks as one of Multiversity Comics's favorite issues of the year. Conversely, "Cave Carson" is pure Golden Age pulp blended with Silver Age psychedelics. Furthermore, Way is the driving creative force for the entire Young Animal line, curating and working with talent to deliver "Shade" and "Mother Panic," along with all the delightful back up features. It's been a treat to witness Way's raw creativity come unfurled in 2016.
7. Kieron Gillen
(Walter Richardson) That Kieron Gillen made our best writer list without any of his books making our best ongoing lists isn't just an interesting coincidence, if you ask me — it shows you how versatile he is. There's his and Salvador Larocca's "Darth Vader" run, which for my money could very well be the best Star Wars comic of all time. There's his darker fare from Avatar (well, more violent at least — his work with Vader is pretty dang bleak), from the Pokemon-gone-wrong hijinks of 'Modded' in the pages of "Cinema Purgatorio," to the gritty science fiction of "Mercury Heat," and of course to the explosive return of "Uber: Invasion."
If you ask me, though, Gillen's crowning achievement in 2016 was delivering another incredible year of "The Wicked + The Divine" with his longtime collaborators Jamie McKelvie and Matt Wilson. But that's just the thing — that's if you ask me. All of these titles check off different boxes for different folks, so while I might think "WicDiv" is the best thing since sliced bread, someone else might assert that "Uber" is a billion times better. But there's one thing me and the "Uber" enthusiast agree on: Kieron Gillen can fucking write a comic.
6. Peter Tomasi
(Brian Salvatore) For a long time, Superman felt broken. Sure, you can blame the New 52, or blame JMS's "Grounded" story, or whatever you like. The fact remains: although there were some highlights over the past five or six years, Superman needed a strong creative voice to steer the character back to relevance.
Enter Peter Tomasi.
Under Tomasi's pen, both the Superman and Batman lines got shepherded into Rebirth masterfully, and then once he took the reigns, along with Patrick Gleason, of "Superman," the magic really happened. "Superman" has been among the best books of Rebirth, both digging deep into the history of the character, and pushing forward into unexplored territory.
Add to that "House of Penance," his Dark Horse creator owned series, and Tomasi quietly put together one of the most consistent and impressive years of his long career.
5. John Arcudi
(Mike Romeo) This was another good year for John Arcudi comics. With mere days left on the calendar, he saw the release of a brand new series "Dead Inside"; "Rumble" finished up its third arc; and then there was the wrapping up of his 12-year run on a little book called "B.P.R.D." Oh, and then there were a number of "Lobster Johnson" issues and a few "DHP" appearances. SO it's safe to say that the guy's had a busy year!
There are a few things I love about Arcudi's writing. First is his attention to character, which seems like it should be an obvious part of any writer's approach, but feels different from Arcudi's pen. When one of his characters does something, or behaves in a certain way, there's a feeling that a lifetime of experiences have led to this moment. Arcudi's characters do what is right for themselves, as opposed to what is right for the comic, which brings a sort of sincerity into the narrative. Of course, this is all helped by the fact that Arcudi just knows how to create dynamic, complicated characters, which means that their aforementioned decisions are going to be a little more interesting than those of your average Joe or Jane.
Continued below
---
---
Then there's the fact that he's unafraid to take his time in telling a story. Arcudi's comics feel like they spill over with possibilities, leaving behind years' worth of clean up to do. Characters often slowly blossom, changing from their own experiences as opposed to the writer's needs. This approach is aided in Arcudi's knack for handling large casts of characters. This way, when one character is in a quieter time in their life, there's no pressure to force them out of it, as there are others who may be ready to engage in a more bombastic storyline.
On top of all of Arcudi's skills as a writer is also the fact that he seems to attract some of the best artists around, which is a huge plus for any comics writer. This year he's worked with folks like Tonci Zonjic, Lucas Varela, Toni Fejzula, Laurence Campbell, and James Harren, which makes me wonder if he's somehow contractually obligated to only work with the best. More likely, though, is that artists see Arcudi as a writer of immense talent that writes the kinds of scripts they want to draw.
4. Greg Rucka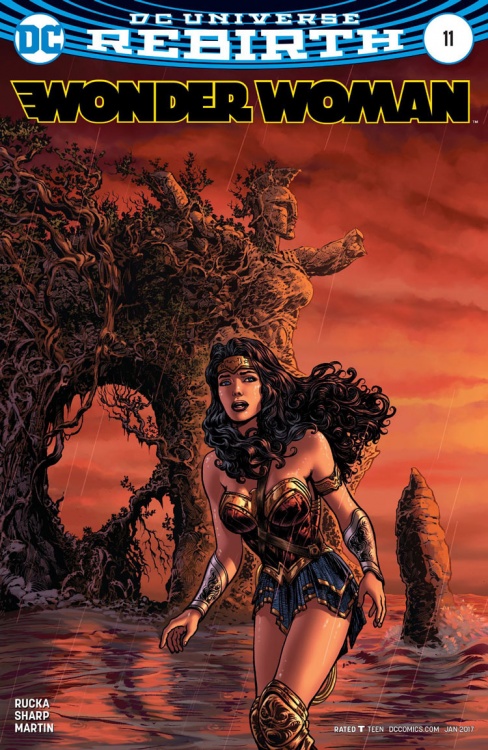 (Drew Bradley) Greg Rucka had several projects going this year including the high-profile Rebirth launch of "Wonder Woman", but he made my personal Best Writer list because of his work on one title: "Lazarus". It's a book we've been behind for several years, and it remains a high-water mark for comics in general and dystopian sci-fi in particular. His willingness to share and discuss some of the research he and Eric Trautman do for the series in the letter column makes him stand out from other writers. Instead of patting himself on the back for what he's found, he actively points out where he took liberties and what crazy miracle technology exists today. His open conversations with readers about their thoughts and concerns for the ideas in "Lazarus" are truly engaging. The peek behind the curtain also proves he (along with Michael Lark and Eric Trautman) are invested in this story beyond the money stream, alleviating worries he'll lose interest and turn in half-baked scripts. Rucka's skills are also evident in his other works, like "Wonder Woman," "Black Magick", or "Stumptown", and any comic bearing his name is worth checking out.
3. Tom King
(Kyle Welch) This seems like an obvious one right? Tom was our winner for breakout writer last year, so I guess it's no surprise he's on the list for 2016's best writers. 2016 felt like the year that he cemented himself as one of comics premiere writers. Whether it was "Sheriff of Babylon", "Omega Men", "Batman", or "The Vision", it seemed like it was inevitable something with his name would be in the conversation for that weeks best comic.
From the first time I read his work, I felt King's writing was felt unique. He has the ability to adapt and embrace the characters he writes. The stories are built around the characters and a tone that fits them. "Omega Men" felt very Greek and operatic. "Sheriff of Babylon" on the other hand is gritty, grounded, and reflective Neither feels like the other or Tom writing in the same style just for different stories.
Zach mentioned in last years write up for Tom, "I fully expect one of the Big Two to attempt to snatch him up in an exclusive agreement in 2016." This of course happened early this year with DC. He immediately took on probably DC's most important series and character right now: Batman. He would be following a run of writer Scott Snyder which received praise from fans and critics. Again Tom has crafted a story focusing on the character and what drives them that so far has lived up to the legacy left by Snyder.
So finally the reason I cast my vote for Tom:  Sheriff" and "Omega Men" are all great but come on, Tom King's "The Vision". Not every writer can say they have written one of the character-defining stories of a Avenger. "The Vision" is a Shakespeareian AI nightmare that is full of heart, grief, and emotion. It is one of the best comics about people I have ever read and Tom has managed to do that in a superhero comic about androids. I look forward to seeing what Tom brings us in 2017 and what next year's list has to say about his work.
Continued below
---
---
2. Brian K. Vaughan
(Jess Camacho) Brian K. Vaughan has arrived at the point in his career where he might not be the most talked about but he's definitely one of the most consistent. In my opinion, he's one of the best there is at creating the monthly floppy. That's why he's on this list again this year. This year saw "Saga" continue to achieve new heights, "Paper Girls" become a bonafide hit, and he launched "Barrier," a new digital series at Panel Syndicate. Vaughan is continuously one of the most innovative writers in comic books. This year, "Saga" never lost a step.
Vaughan continues to find ways to push himself. With every issue he makes you feel like you got your money's worth. Each issue he writes is always full of meaningful character and plot development and he almost always leaves you with a cliffhanger that demands you come back for more. This year, he also showed off his wide range as all of his work turned out to be very different from each other. Despite all the reboots that have come the last few years, Vaughan remains a staple of lengthy storytelling. He asks you get invested in each world he creates and it becomes tough to say no. Vaughan has carved out the top spot in creator owned comics and while he's not snapping up TV deals left and right, he had another fantastic year of storytelling that most writers would probably kill for.
1. Jason Aaron
(Greg Matiasevich) Everyone waiting around for "the next Alan Moore" can stop waiting; he's here and his name is Jason Aaron.
A few caveats go with that statement. First, I'm not saying there is a one-to-one correlation between everything Moore and Aaron have done; "Scalped" isn't Aaron's "Watchmen," for instance. Nor are there similarly parallel trajectories in their careers. Aaron's had the luxury of working in a post-Moore industry where companies are at least slightly more amenable to creators working for them, and creators are more aware of the land mines involved in work-for-hire jobs. Therefore, he's already spent more time in mainstream comics than Moore afforded himself, which throws off any direct career comparisons a bit. That said, two things come to mind when thinking about Aaron in relation to Moore (although he might not appreciate the comparison): quality and choices.
Aaron is a hell of a writer; so much so that every time he handles a mainstream character, that run is usually an automatic candidate for Top 5 of their stories. Wolverine, Wolverine & Spider-Man, Doctor Strange, The X-Men, Thor, Ghost Rider…and those are just the biggest names. He wrote one of the few company events in recent memory worth reading ("Original Sin") and used The Orb as one of the lynchpins. The Orb! Plus he's been handling one of Marvel's lesser known licensed titles for the last few years: "Star Wars." Perhaps you've heard of it? And on top of that, he keeps a strong connection to creator-owned work with books like "Southern Bastards" and "The Goddamned."
Another takeaway from that list is Aaron writes a ton of books. Writing a good story is hard. Writing a good story issue after issue on a book is really hard. Writing good stories month-in and month-out over multiple books is even tougher. And doing that over multiple titles with each going in a different thematic or subject matter direction? Pulling that off gets you the top spot, in my opinion. And aside from the financial concern of needing to write X amount of books to make a living wage in this industry, there is the personal challenge of keeping oneself from being typecast as a certain type of writer, or becoming too limited in artistic scope. Moore talks about this very idea in the afterword to his "Writing for Comics;" any writer worth their salt should keep doing things that make them uneasy or a little afraid — otherwise, what's the point? And as we see every week, not every writer CAN handle multiple simultaneous books or conflicting genres. But the ones who can? Watch out.
Whether it's in Asgard or Alabama, biblical times or tomorrow's headlines, Aaron knows how to give readers what they want without them feeling like they already know what they're going to get. And given the wide range of styles he likes to do that work in, I think Aaron will be getting compared to the gentleman from Northampton more and more as time goes on.
Continued below
---
---
Editors' Notes:
Brian: Lists like this are tough, because I don't think there's any way to deny the talent on this list, but it is also a huge bummer that it's a bunch of white dudes. Again, I'm not saying these ten didn't deserve it, but hopefully in the next few years both the industry, and our tallied votes, get more diverse.
Mike: I'm so stoked that "Giant Days" landed John Allison on this list. I'm less stoked (and a little surprised) by how totally dudely this one came out. I mean, we average out responses, so it is what it is, but really now.
Matt: I think it's worth noting all these guys have been working for a long time and most have made appearances on our past list. Like you, Mike, I was happy to see Allison's presence: I think he represents a broadening perspective and I'm all about our staff and readers and selves expanding our horizons.